Spanish custom Ducati specialist Pepo from Radical Ducati has built something which is not just another cool Ducati. For the first time in RAD's history Pepo decided to get his hands on an 80s Yamaha XT600 and transformed it into DIRT RAD.
Lets take a little flashback; Yamaha XT600 Tenere was a triumphant bike, with fans spanning across the globe. First coming into production in 1963, Yamaha XT600 Tenere was evolved from the XT500. The bike was built well and represents the classic trail bike with all its characteristics.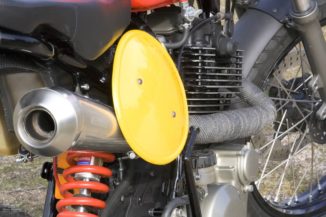 To begin the build the stock Yamaha XT600 frame was chopped, modified and fitted with the fork of a FZR600. The XT600 engine was rebuilt with new-ported heads and fitted with Wolfman 2-into-1 exhaust system with Spark GP Megaphone. My personal favorite on Dirt-RAD is the 1970's Ducati 250 DE LUXE'70 fuel tank, which sits perfectly on the frame and flows well with the rest of the bike.
Dirt-RAD rolls on 18″ Akront rims aluminum wheels and stainless steal spoke wrapped in Pirelli Skorpion tires. The braking systems were taken from a Ducati S4RS and the saddle was borrowed from a Pursang Bultaco, which is another classic touch.
Another cool feature is RAD's in house hand crafted mudguards, the front one is made with aluminum and the rear one is in carbon fibre – a signature touch from RAD.
At the rear DIRT RAD features Hagoon rear shock and a Lucas replica rear light. The front is crowned with Rizoma handlebar and Puch Minicross 50 cc headlight. Other features include a modified aluminum road racing chain guard taken from a Ducati 916.
The finished DIRT RAD is another great example of killer transformation!
For more from Radical Ducati check out these featured bikes Carallo Sport, 750 Daytona, Ducati 9½, Rad to Hell or Vendetta!