Today's feature motorcycle is a custom BMW R45 from Ton-up Garage, Portugal. Named Pure this bike is the latest creation to roll out of the workshop and reflects the best essentials of a motorcycle.
Here's Ton-up Garage to tell us about their build " We've started from a previous custom attempt on this bike that we felt had failed, and ended up with what we thought this bike was all about, simplicity and purity. We made this motorcycle, without having a customer for it, so all the decisions of what to did were completely ours with no other input into the build.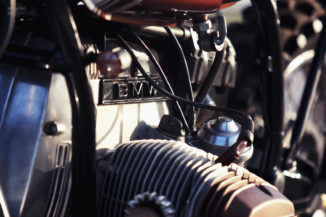 With a small 474cc engine and 35hp this custom BMW R45 is very well balanced to be used as a city commuter. It is also very easy to ride and prepared with off-road tires to circulate in the oldest town roads, prepared to find holes in the tarmac and all irregularities that may show up. To be able to function on these conditions we've fitted new rear shocks and tuned the front forks.
The front headlight grill and the rear subframe were built in-house. The front and rear mudguard were replaced with modified new chrome mudguards. To bring the old school charm this custom BMW R45 features spoke wheels with off road tires. The exhausts were hand fabricated and have been fitted with titanium exhaust wrap.
Other modifications include small black indicators, a small taillight and a small chrome/white speedo, classical off-road handlebars and brown grips. The stock rear shocks were replaced with a new set. The finishing touches includes the retro style paint job with white purity and earth brown colors. "
Ton-up Garage ~ Born to Live, Live to Ride!