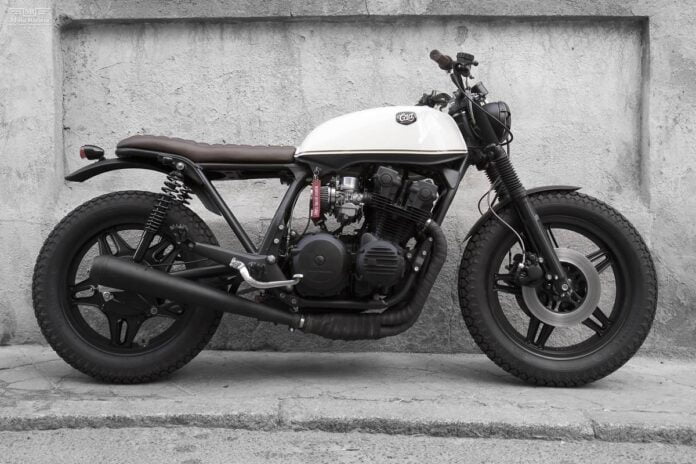 The Spanish custom scene is blessed with talented custom motorbike builders and one of them is Café Racer Dreams, owned and operated by Pedro García. Just like their name these guys can build your dream bikes, their latest creation Honda CB750 kz custom aka "Black Cream" was built for a customer in Belgium.
The base for the build was a Honda CB750 kz custom, which came all the way from Belgium; to begin the build CRD dismantled the bike. Like all CRD projects this bike needed to drop in size and the rear of the frame was modified to accept the new seat.
Since the owner of the Honda CB750 kz custom is tall the bike needed to be raised up. To fix the problem CRD changed the rear shocks replacing it with Hagon, which is about 4 inches higher than the original shocks.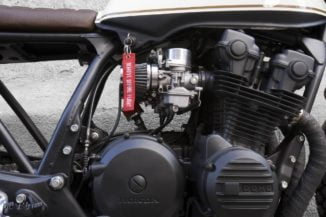 The engine, chassis, swingarm were painted black to match the black cream theme. The stock CB 750 KZ tank was painted in an off-white color, chosen by the owner. This Honda CB750 kz custom rolls on Military Firestone 19-inch front and 18-inch rear tires. It also features a hand fabricated battery box, which has been fitted below the swingarm. The front and the rear fenders were also hand fabricated in-house.
According to Pedro "Each of our bikes are always a great challenge for us. This was the extra ingredient of having the client 1600 km in Belgium. Hide the electrical system is the most difficult in such preparations. At first glance the bike is simple, but it takes many hours of work."
Every thing about this bike is beautiful but we couldn't resist asking Pedro what he liked most about the bike. "Perhaps because it was a novelty in our bikes, the wearing of the new headlight and neoprene fork guards (a prompt and effective solution to convert all black fork, custom made) may be the parts that I call attention.
Each time you finish a bike, although it looks similar to the above there is much work and different problems. We are delighted that the second bike is exported out of Spain; we expect many more in this 2012"
The finished Honda CB750 kz custom is an absolute pleasure for the eyes, a Spanish beauty with sexy lines. CRD has also just launched their new online store, we think it's definitely worth a look. Don't worry you don't need to take a crash course in Spanish to navigate, click on the EN button to translate to English. The store has Custom parts, caps, gloves and our favorite some really cool t-shirts!