Originally designed to compete at the famous Motogiro d'Italia is Radical Ducati's custom Ducati 125 Sport Cafe Racer aka 'Carallo Sport.
To compete in the Motogiro this bike needed to have a strong motor, a reliable electrical system, good brakes and of course a large tank with enough capacity to withstand the long race – about 300km.
Based on a  single cylinder four-stroke Ducati 125 Sport, which was described as being quite shabby but perfect for this project, as it was not a restoration it was a complete rebuild!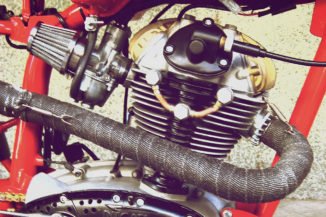 The engine was completely dismantled and was upgraded with a Ducati 250 Mototrans (Spanish Ducati factory) 5 speeds, ported heads, racing camshaft fitted with Amal 27 carburator. The Wolfman exhaust system with Mas aluminum megaphone has been fitted at half height to gain clearance below the chassis.
This custom Ducati 125 Sport rolls on 17-inch aluminum rims with inox spokes. At the front we have Grimeca 180 mm double side front brake with Amadoro racing covers and the rear brake is the Original Ducati 125. The front and rear mudguards are made with fiberglass, which is Radical Ducati's signature.
Our personal favorite on this cusotm Ducati 125 Sport is the Tarbo 125 fuel tank, which has been painted beautifully along with the rest of the motorbike. The other modified parts includes Ducati GP clip ons and levers, Montesa rear light, Café veloci MV agusta style racing footrest and Aermacchi 125 race solo seat.
The electrical system was changed from 6 volts to 12 volts and an electronic ignition flywheel kit was installed to remove the battery and the points. Some really nice finishing touches are a bicycle speedo and a Ducati 250 rev counter.
This Ducati 125 Sport is yet another fine example of the work from Radical Ducati, a bike with great lines, excellent performance and also a look which would command attention wherever it went!