Scrambler motorcycles have been around since the 1920s, but they gained popularity in the 1960s and 1970s. These bikes were designed to handle off-road terrain and were often used in competition events, such as scrambling and motocross. They were stripped-down, lightweight machines with high-mounted exhausts, knobby tires, and minimal bodywork.
The scrambler style fell out of fashion in the 1980s and 1990s but had a resurgence in the early 2000s, with many motorcycle manufacturers releasing their own take on the classic scrambler design. The Triumph Scrambler was first introduced in 2006, and it quickly became a popular model for the British motorcycle brand. The latest iteration of the Scrambler, the Scrambler 1200, was released in 2019.
Design and Models: A Modern Take on Classic Scrambler Styling
The Scrambler 1200 is a stunning motorcycle that combines classic scrambler styling with modern technology and features. Both the XC and XE models feature a high-mounted twin exhaust system, wire-spoke wheels, and a single round headlight. The XC model has a more off-road focus, with a 21-inch front wheel, long-travel suspension, and higher ground clearance. The XE model has a more on-road focus, with a 19-inch front wheel, shorter suspension travel, and a lower seat height. Both models feature LED lighting, a full-color TFT display, and switchable ABS and traction control.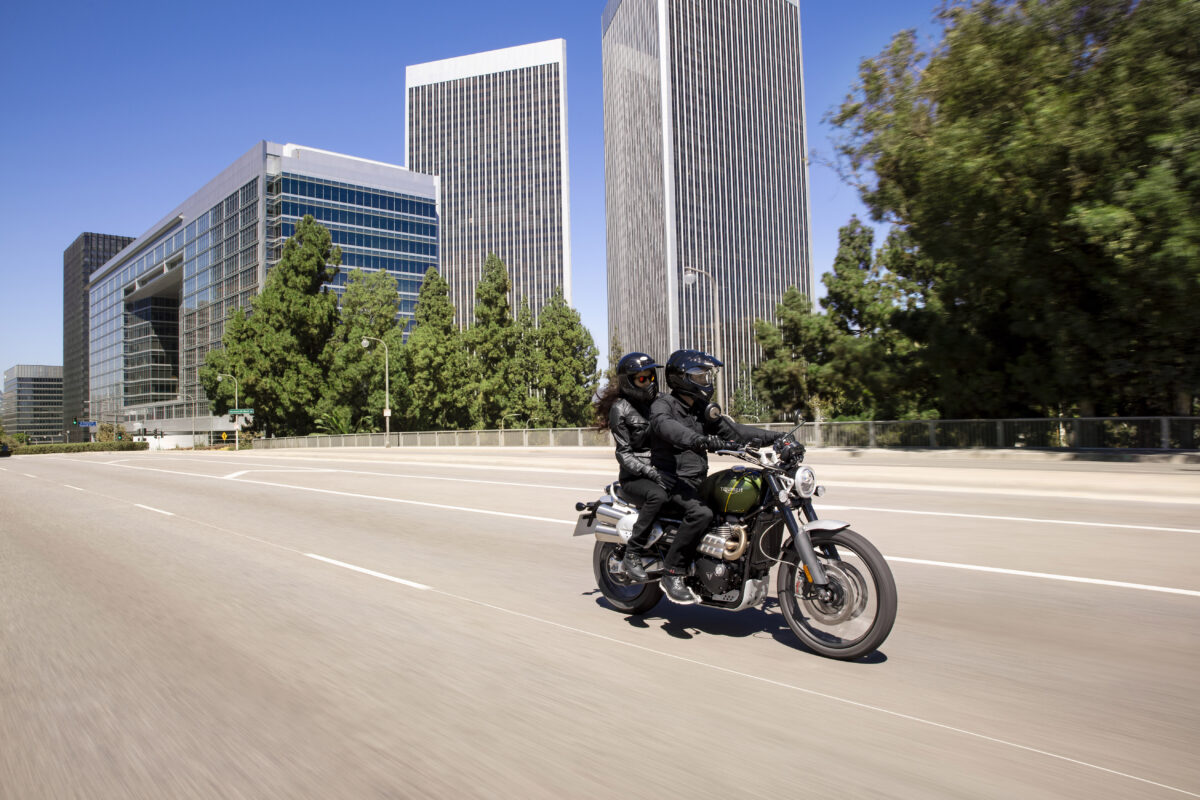 Engine and Performance: Smooth Power Delivery and Responsive Control
The Scrambler 1200 is powered by a liquid-cooled, 1200cc parallel-twin engine that produces 89 horsepower and 81 lb-ft of torque. This engine is mated to a six-speed transmission with a slipper clutch. The power delivery is smooth and linear, with plenty of low-end torque and a satisfying exhaust note. The Scrambler 1200 also features ride-by-wire throttle control, which provides precise throttle response and improved fuel efficiency. The brakes are powerful, with twin 320mm discs and Brembo calipers on the front and a single 255mm disc on the rear. The Scrambler 1200 is also equipped with Showa suspension components, with adjustable damping and preload.
Advanced Technology and Features: Elevating the Riding Experience
The Triumph Scrambler 1200 is not only a beautiful motorcycle, but it also comes packed with advanced technology and features that make it a joy to ride. Here are some of the standout features:
Ride-by-wire throttle: The ride-by-wire throttle system provides precise and responsive control, making it easy to maneuver through city streets or hit the open road.
Six riding modes: The Scrambler 1200 comes with six riding modes, including Road, Rain, Sport, Off-Road, Rider-Configurable, and Off-Road Pro. These modes allow you to customize your riding experience based on your terrain and preferences.
Cornering ABS and Traction Control: The Scrambler 1200 comes equipped with cornering ABS and traction control, which provides extra safety and stability when cornering.
TFT instruments: The full-color TFT instruments provide easy-to-read information on speed, fuel level, gear position, and more. Plus, the display is customizable, so you can set it up to display the information you need.
Keyless ignition: The Scrambler 1200 comes with keyless ignition, which makes it easy to start the engine with the touch of a button.
Overall, the advanced technology and features on the Triumph Scrambler 1200 help to make it a motorcycle that is not only stunning to look at but also a joy to ride.
Rideability: Comfortable, Versatile, and Nimble
The Scrambler 1200 is a versatile motorcycle that is comfortable and capable in a variety of situations. The long-travel suspension and high ground clearance make it a capable off-road machine, while the comfortable seat and upright riding position make it ideal for long-distance touring. The handling is precise and responsive, with excellent feedback from the front and rear wheels. The Scrambler 1200 is also surprisingly nimble for its size, with a low center of gravity and good weight distribution. The instrument cluster is easy to read and provides essential information, including gear position, fuel range, and riding modes. The Scrambler 1200 comes with five riding modes, including Road, Rain, Off-Road, Sport, and Rider, which can be customized to suit individual preferences.
Verdict: A Stunning Motorcycle that Combines Style and Capability
Overall, the Triumph Scrambler 1200 is an excellent motorcycle that offers a great balance of style, performance, and versatility. The classic scrambler styling is timeless, while the modern technology and features make it a capable and reliable machine. The two available models provide options for riders who want more on-road or off-road capabilities. The Scrambler 1200 is a motorcycle that can take you anywhere, whether it's on a long-distance tour or an off-road adventure.