What we have here is the latest to roll out of the custom Ducati masters garage, the 'Ducati 750 Daytona' from Radical Ducati, Spain.
Although the turn around time seems quite quick, the work involved in producing one of these custom Ducati's is really quite remarkable.
The 'Ducati 750 Daytona' is based on a 04 Ducati 749R, the engine was tuned for maximum performance, which is Pepo's personal signature on each and every bike he has built. Radical Ducati bikes have raised the bars with their distinctive design and flawless performance; these bikes can be spotted from miles away.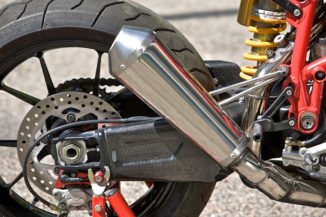 The head covers are Magnesium base, Pepo has also modified the air funnels. Pepo's personal favorite Wolfman 2 in 1 exhaust system with SPARK omologated Megaphone. The 'Ducati 750 Daytona' is built with RAD 02 Montjuich kit which include a modified aluminum front bracket, aluminum rear subframe, fiberglass gas tank fiberglass TT solo seat and a fiberglass fairing. All these parts have been hand fabricated by Radical Ducati and can be purchased as a kit for your own project.
Carbon fiber is a core ingredient for most of Radical's bikes, adding Carbon fiber to these bikes means less weight and more performance. The 'Ducati 750 Daytona' is loaded with Carbon fiber parts including, belt covers, front mudguard, swingarm protectors, chainguard and water pump protector.
At the front what we have is the Öhlins fork with Brembo radial calipers, rotors and radial PR 19 brake pump with remote control. Custom made Carbon fiber front mudguard, High/low beam front light and EVR clutch actuator. The bike also features Öhlins rear shock, rear brake caliper go down position kit and SP regulable ergal footrest. All the electricals and wiring have been done by Pepo.
We wish we could spend a day in Pepo's shop and watch him building these bikes. A bike that looks great and performs even better, what more could you want?