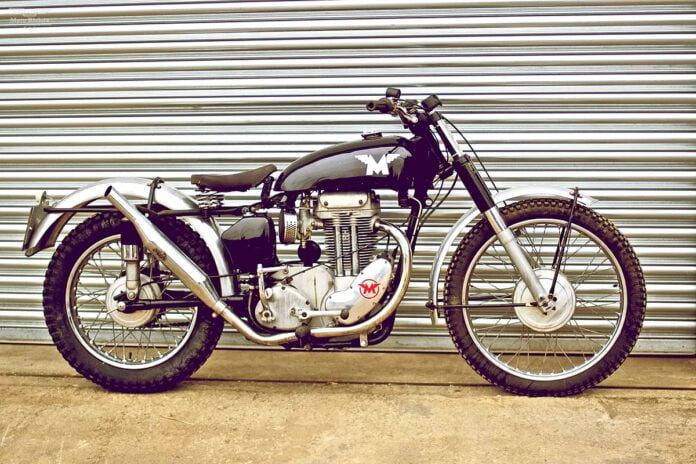 The Matchless G3/L was a popular choice for UK trials riders, and after the war there were plenty of bikes and spares to enable champions such as Artie Ratcliffe and Ted Usher to win numerous national events for Matchless.
During the 1950s, Matchless built a line of popular single-cylinder bikes called the 'Clubman,' which used 350cc to 500cc engines. By the mid 1950s Matchless and AJS built the best selling single-cylinder trials bikes in the 350cc Class.
The Post war Matchless G3LS was the military version finished in black instead of green or khaki. Despite its age, the Matchless was so well proven and reliable it remained in use by the Ministry of Defence for another 15 years after the end of the war, until replaced in 1960 by the BSA W-B40.
The one you see in the picture above is a 1955 Matchless 350cc G3LS Trials and features black-tanked "jampot" sprung  presented in trials trim complete with a competition magneto and side stand.
According to it's owner the bike runs OK but will require some detail preparation prior to competing in a trials event. This bike was auctioned at Bonham's with a final sale price of £2,760.