The Moto Rivista editors and readers have one thing in common, we all are addicted to motorcycles!  This same addiction is shared by many across the globe; Radical Ducati from Spain pushes that addiction to the extreme by creating extraordinary custom Ducati bikes.
Our friend Pepo and his wife have been building great motorcycles to satisfy our custom addiction. At Moto Rivista we have showcased several of their builds already and today's focus is on their RAD02 Pursang. The name of this bike RAD02 Pursang is inspired by Bultaco Pursang, the Pursang MK7 was quite popular amongst American dirt riders.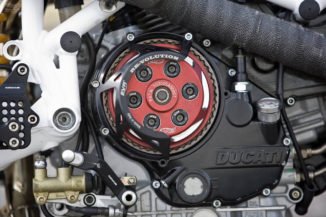 The build of RAD02 Pursang started with a custom chromoly frame, which was mated to a Ducati Monster SR2 single-sided swingarm with Öhlins shock. At the front RAD02 Pursang features an Öhlins fork fitted with Marchesini aluminum forged wheels. The top is the Rizoma handlebar mounted on RAD's Ergal custom triple clamps.
When it comes to building custom motorbikes there is no shortcut in Pepo's book, every thing on the bike gets the same attention to detail resulting in a great balance of design and performance. The Multistrada 1100 engine have been heavily modified and includes new cams, ported heads, NCR titanium valves, DP Camshafts, Big Valves, EVR Antihooping and a dry clutch. The engine was assembled with K&N air filters and fitted with RAD's favorite two-into-one WolfMan exhaust system.
RAD02 Pursang also features a hand crafted aluminum fuel tank and a carbon fiber tail section. The frame and swingarm were painted in white paying tribute to Ducati bikes from the 90's.
Now a build like this does not come with surprising price tag, you don't have to be a Hollywood star or a spoiled rich kid to own one. You can build one yourself with all the parts available as a kit, visit their website for more info. Want to see this bike in action watch this video of the RAD02 Pursang.
Take a look at other Radical Ducati featured bikes here:  Carallo Sport, 750 Daytona, Ducati 9½, Rad to Hell or Vendetta!