I think since my last post on Motor Rock my Japanese has started getting better, I have now managed to learn how to write custom motorcycle (のカスタム オートバイ) in Japanese…phew.
At Moto Rivista we are addicted to motorcycles, our passion and appreciation from our readers is what keeps us going. There is no doubt that we are in love with Motor Rock's craftsmanship. Our friend Keita and Co from Motor Rock are a workshop with the perfect balance of all custom build ingredients; from sheet metal fabrication to welding they have it all
Yamaha SR400 is quite popular amongst custom motorbike builders and when you look at Motor Rock's portfolio you can see that clearly. These guys have built quite a few beautiful custom SR400 motorcycles. Just a few weeks ago we featured a Yamaha SR400 AKA Clock Work from Moto Rock. Today we are taking a look at another Yamaha SR400 AKA No.15, which is the perfect eye candy for custom craving.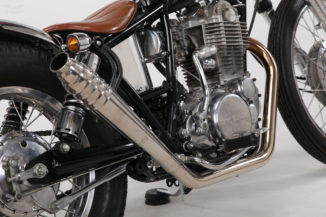 The base for this custom build was a stock Yamaha SR400 that was stripped down to the engine. The Yamaha SR400 features one off sheet rail processing frame, mounted to the frame is 534cc SR400 engine with a one off Motor Rock air cleaner and 69Megaphone exhaust.
At the front SR400 features a 30mm low down fork and one off handlebars with Motor Rock 69 aluminum switch. At the rear the bike features a Progressive Short suspension with Motor Rock 69Tail type1 aluminum taillight.
Fabrication work includes Sportster fuel tank, oil tank, 69Box battery case and a custom rear fender all in house fabricated by Motor Rock and also available in their online store.
SR400 No.15 rolls on Motor Rocks 21-inch front wheel kit and a 15-inch rear, the front wheel is wrapped in AVON SP MKll and the rear is in classic Cocker. Last but not least the one-off 69Seat, which adds the classic touch to the finished bike.
Other parts on the bike came from Motor Rocks online product catalog, which includes knee look mirror, throttle holder, Billet kick pedal, Sprocket cover all these available at their online store.
Disclaimer: If any of the facts in this article have been lost in translation we apologize, please feel free to comment and correct us! Moto Rivista editor!
Take a look at these other Moto Rock bikes: Clock Work, Yamaha TX750, Suzuki GN125