The Japanese custom scene is full of surprises, just when we thought we had seen every thing we came across another mind-boggling custom shop Motor Rock. It's fascinating to see how much work has been put in to these custom motorbikes.
Founded in 2004 by Keita Kobayashi and Takanori Katagiri is Motor Rock, Japan. A custom workshop that will have your eyes popping out of your head with the amount of cool customs they have built, they also have a great selection of one-off parts.
Today's selection from Motor Rock's artillery is Suzuki GN 125; this boardtrack replica is powered by a single cylinder Suzuki GN125 engine and one-off stainless steel funnel Air Cleaner. This beauty features a one-off frame and a polished aluminum sprung tractor seat.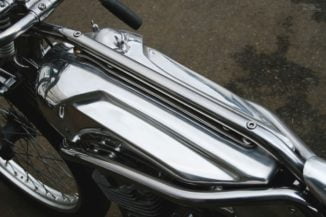 The entire structure of the bike is captivating and keeps your eyes busy with the flawless craftsmanship. The bike also features a one-off hand fabricated fuel tank and a custom exhaust. Suzuki GN125 rolls on 21-inch front wheel wrapped in Avon SP MK11 and Bridgestone at the rear. Although at first the frame looks standard when you look at the swingarm you notice it is not very long, no big deal unless your planning to commute.
Some times it's hard to find information about these bike builds and especially hard when the information is in a foreign language. The work involved in building a bike like this Suzuki GN125 boardtrack is just amazing and we wish we could go into further details. Thankfully what we do have is a beautiful selection of images, launch the Photo Gallery to see the details of this bike up close and personal!
Stick around there is more to come from these guys, they have made the Moto Rivista custom addiction book!