The Japanese custom scene is packed full of passionate custom motorbike builders. When you take a look back in time it's not at all surprising!
British manufacturers Triumph, BSA, and Norton held a dominant position in the motorcycle market, until the rise of the Japanese manufacturers (led by Honda) in the late 1960s and early 1970s. The excellence of Japanese motorcycles caused similar effects in all 'Western' markets: many Italian bike firms either went bust or only just managed to survive. If the world ever needs to know how to rise after a bad fall, Japan would be the perfect example. Today Japanese manufacturers Yamaha, Kawasaki, Honda and Suzuki still dominate the motorcycle industry.
Today we take a look at the killer transformation of a Yamaha TX750, built by Motor Rock, Japan. Motor Rock is not just into building one-off custom motorbikes they also manufacturer some cool parts. Custom motorcycle builders like Motor Rock don't just tinker a few parts here and there, these guys display amazing craftsmanship and skill.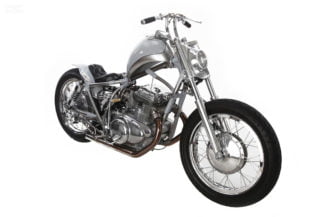 The base for this build was a Yamaha TX750 with air-cooled, four stroke and parallel twin cylinders engine. To begin the build Motor Rock made a one-off lugged frame, by using steel tubing and sockets (called lugs). The one-off exhaust system was welded to the frame and fitted with a one-off custom Motor Rock flange.
One of our favorite parts of the build is the distinguishing headlight, which was inspired from 60s Harley XLH. Another interesting feature of the bike is the fuel tank, which was hand crafted using sheet metal, the entire backward bend structure of the tank is amazing!
This Yamaha TX750 Custom is loaded with mind boggling custom parts, one of them is the elaborated engine oil reservoir polish finish with a rib charms. This has been fitted under the seat and it is a one-off part made only for this bike.  A license plate has been changed into side mount on the left hand side of the body, sitting right behind is the oil filter.
The short handlebars feature Motor Rock 69 switches, a pair of vintage grips and polish lever. The Yamaha TX750 rolls on 19-inch front and 18-inch rear wheels wrapped in Avon Venom tires; a progressive rear suspension and a single panel drum brake help this bike to stop!
Disclaimer: If any of the facts in this article have been lost in translation we apologize, please feel free to comment and correct us! Moto Rivista editor!