Some things are more than worth the wait! That is definitely the case for today's feature bike the Royal Enfield V-Twin 'Musket' designed and built in Columbus Ohio by Aniket Vardhan.
For Aniket the spark that ignited his passion to create something spectacular goes way back many moons ago when growing up in Delhi India he heard a Harley-Davidson start up for the first time, he dreamed of one day visiting their homeland. Believing he wouldn't make it to the US Aniket started to think of what he could do with his Bullet (really the only available motorcycle in India back then) instead. The idea to create a V-Twin Royal Enfield you could say started out as a kind of Plan B, the next best thing.
After finding himself studying in the US in 2002 the project really got off the ground when he picked up his Bullet engine on a trip back to Delhi.
Aniket tells us "I don't have a precise idea in terms of continuous time as it proceeded as most crazy self driven projects do…on weekends and holidays while working as full-time faculty at a design school, with various gaps when motivation was low and self-doubt high. Chronologically, I'd say I began designing in late summer, 2003. The motor fired for the first time in Jan 2009."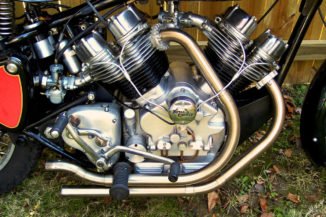 The build of the Musket utilizes as many Royal Enfield Bullet internals as possible; a completely new crankcase was designed, cast and machined. The heart of the Musket features a 700cc Royal Enfield V-Twin built by using two 350cc top ends with the potential for higher displacement. Custom engine mounts allow the engine to fit a stock Enfield Bullet frame with a stretched top tube.
Obviously a build like this one comes with many challenges Aniket tells us "I think the hardest part was probably the building of the casting patterns, even though machining presented several headaches as well as I had never done any machine work before and had to learn as I went along. To transform a bunch of CAD drawings into accurate 3 dimensional forms using a bandsaw and hand tools was very laborious and painfully slow. Design took a while too but since I could quickly sketch out a mechanical layout on paper and then construct it digitally in CAD to check if components would fit and work together, alternatives could be generated rapidly. Time wise, I'd say the patterns took the longest to build, compared to design and machining.
A build lead by a sound, we are not surprised with what Aniket says he likes most "The way it SOUNDS! It sounds far beyond what I ever dreamed of and even today having it rumble into life and settle into that steady idle gives me great joy. Snapping open the throttle in third produces quite a hairy-chested roar…, which turns into a very satisfying angry muttering on the overrun when you back off the throttle."
It doesn't stop here, whats next for Aniket and the Musket? "After a lot of interest from enthusiasts across many countries who saw the videos and website, I decided to pursue the path of limited production of the crankcase kit on order. Made numerous improvements to the original design and spent the last year building all new patterns with a more compact V angle and a choice of either 700cc or 1000cc. Patterns completed. Currently awaiting quotes from casting foundries.
A 'British' based V-twin would be a desirable alternative for custom builders who were into British bikes or wanted something a bit different. British parallel twins are plentiful but V twins like the Vincent, Brough, Matchless or AJS are extremely rare and expensive. The Bullet engine with it's steady supply of affordable spares and undeniable old-school charm, performance parts availability and utter simplicity is a sound basis for a really cool 'other' vintage v twin. One that you could build and ride without breaking the bank. Just like a Vincent, both exhausts exit forwards due to the front and rear heads being the same. This factor is distinctive and immediately calls attention to the motor. Let's see how the production version goes!"
I'm sure by now you have realized this is no ordinary build, it is also not the kind of build we can cover in one feature. It is a story that also has so many great life lessons, everyone has a dream but how many actually make it happen?  Do the hard yards and anything is possible!!
Check out the Musket's roar here and to get the full story of this awesome build please visit the Musket V-Twin website.