If we are amazed, impressed and inspired by this almost 90 year old bike, then imagine back in 1922 the people must have been going crazy to see such a creation!
One of the oldest marques of British motorcycles, Matchless made their first motorcycle in 1899 with production beginning in 1901. Matchless was the trading name of a father/son business Collier & Sons (Henry Collier and sons Charlie and Harry). Like many other motorcycle manufacturers of that era they started out as bicycle manufacturers.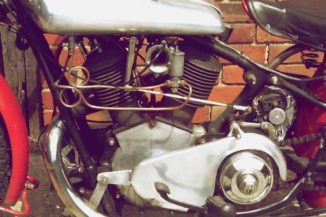 They produced a JAP V-twin powered bike in 1905, with one of the earliest swing-arm rear suspensions coupled with leading-link front forks. Winning the very first Isle of Man TT single-cylinder class in 1907 on a 432cc Matchless Motorcycle was Charlie Collier, at an average speed of 38.21 mph in a time of 4 hours 8 minutes 8 seconds. Harry also won in 1909 and Charlie won again in 1910, this success at the Isle of Man TT certainly helped bring public attention to Matchless Motorcycles.
Matchless made mostly singles but they also made V-twins from 496cc to 998cc, and produced their own engines from 1912 onwards.
The one we are featuring today the 1922 Matchless-MAG 998cc Special. It is believed this bike had not had a run since 1937 when finally in 2010 the bike was completely rebuilt and fitted with a new magneto. This bike has traveled fewer than 100 miles since completion and looks like it is in pretty good condition considering the age.
This bike was auctioned at Bonham's with a final sale price of £10,350.