The Del Prado brothers from DP Customs are big racing fans whether it's MotoGP or F1 NASCAR, they love it all. It's no surprise when you look at most of their custom bikes you can see that racing inspiration.
Their racing excitement went up a notch when they were commissioned by racecar driver Perry Mele to build him a bike. He races in the Pro Mazda series, and holds the lap record at Inde Motorsports Ranch in Tucson, AZ. Jarrod tells us "He wanted a bike that looked cool, but more importantly, one that was a real rider.  He had some loose ideas about design, but definitely wanted orange on the bike since his racecar is primarily orange.  That was music to our ears because we love using bright colors. We had him send over some photos of his car and we got to work on a design." DP Customs took a 1979 Harley-Davidson Sportster and turned it into 'Mele', named after it's new owner.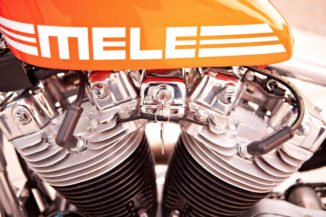 Since Perry is quite tall for a racing driver DP Customs decided to stretch the hardtail beyond the normal 4-inch to 6-inch and also mounted their DPC clip-ons a bit low, which will provide Perry a better stretch for his long arms. this custom Sportster features a scuba style oil tank which was also part of Perry's design brief. The frame went through some serious fabrication and was finished in "near-chrome" powdercoat, which also appears to work perfectly with the orange fuel tank.
Race car driver and horsepower, I am sure you know the connection…it's a need for speed. The brothers knew that HP is something Perry would be expecting out of his bike so they found an overhauled 1000cc Ironhead with hot cams, headwork, branch intake manifold and Mikuni carb putting out 75 ride angry horsepower to the wheel. The work on the engine was completed with a custom X-pipe exhaust which works perfectly by keeping the air/fuel mixture flow consistent between the front and rear cylinders.
This custom Sportster rolls on stock 19-inch front and 16-inch rear re-laced with new spokes and powdercoated in white both wheels wrapped in Pirelli Sport Demon rubber tires. The rear fender was done with a custom fabbed wing and was finished with Perry's racing number 20.
This custom Sportster also features controls from Vicious Cycle Works, Biltwell Slimline Seat, Biltwell Kung-Fu grips and Biltwell Whiskey Throttle. Finished 'Mele' has all a racecar driver would expect, great racing style with screaming performance. A hybrid between a Cafe Racer and a drag bike, with true racing spirit running through it's vain. Another winner from DP Customs!
We have quite a collection of featured articles from DP Customs, take a look here: Top Fuel II, Naked Cafe, 79 Cafe Racer, Look Right, 85 Grabber Cafe, 1982 Sportser Le Mans.