The 82 Sportster Le Mans is the third bike we are featuring from the Del Prado brothers, previously we have featured their 85 Grabber Café and 82 Harley Ironhead Look Right.
According to Justin the build for this 82 Le Mans started about a year ago, and the purpose was for him to ride it as a promo motorbike. The idea behind this bike comes from Le Mans and F1 racing, which has been beautifully captured by the brothers using great colors, graphics and bodywork. The bar-code on the rear fenders are from Marlboro sponsored Ferrari F1 cars, and the number 6 is Justin's favorite driver Mario Andretti.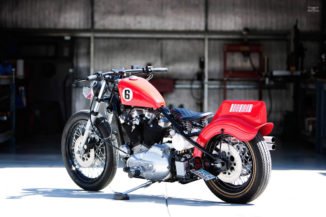 Lets get down to a bit more details, the heart of the 82 Le Mans is a 1000cc '82 Harley Ironhead which was cleaned and detailed. The frame has been hardtailed, lowered and stretched by 4 inches. The Le Mans styled rear fender and the wing were hand crafted by the Del Prado brothers using cold rolled steel. Everything on this bike is new the powder-coated wheel with new bearings, all wiring and electronics.
The 82 Le Mans has a Biltwell diamond stitch tuck-n-roll seat, powder-coated drag bars with joker machine grips. Model A powder-coated taillight with a vintage front Avan and Shinko rear tires. Also a DP Customs full length wrapped up shotgun pipes with rebuilt Keihin carb and a velocity stack Deka AGM battery.
The design on this bike perfectly resembles the old Le Mans era; from the wings to the white shotgun pipes this bike is an absolute attention grabber!
The 82 Le Mans has been featured in Barnett's and will be appearing in Iron Works Magazine later this year.