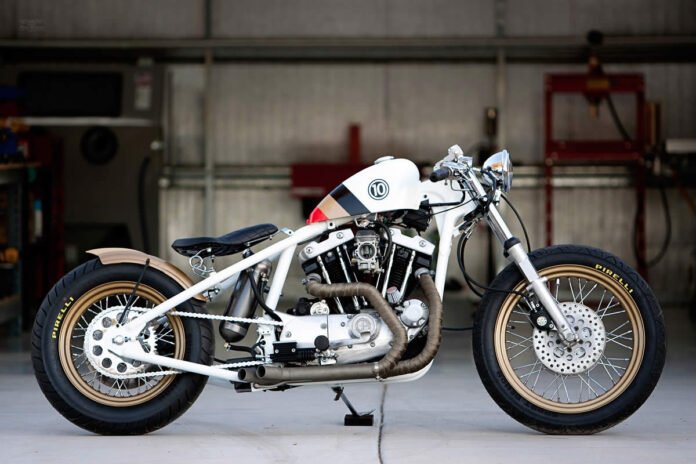 Arizona-based DP Customs don't need any introduction, they are well known for making motorbikes look right. Previously we have listed their 85 Grabber Café, which was an amazing design.
Most of the custom builders have a specialty and they like working around that, for the boys at DP customs its Ironheads and Evo's. Hand fabricating stock motorcycles and transforming them into old-school Hot Rods is their style.
The bike we are featuring today is The 'Look Right Hardtail', during the build of this beauty the Del Prado brothers spent more hours than ever. When you have the passion to build something special time becomes meaningless.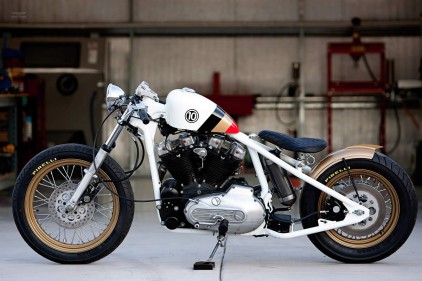 The build started around an '82 Harley Ironhead' with the engine 1000cc capacity which was mounted directly to the DP custom Hardtail frame and a rebuild Harley CV Carburetor. That rear fender is our favourite, hand crafted by Del Prado brothers using a single sheet of steel. Café racer style clip on bar. Black Diamond Biltwell solo seat, for comfort and support to stop you sliding off your ride. 'Look right' rolls on 19" and 16" Pirelli Sport Demon tires with powdercoated wheels. Lastly a custom exhaust with thermal wrap.
Almost every thing on this bike was carefully restored or replaced with new parts; all the wiring, accessories and controls are brand new. The Del Prado brothers are passionate about old Hot Rods, so when it comes to the paint job you can see that passion on this bike. 'Look right' got that Hot Rod color theme, the Del Prado brothers painted the bike using white on frame and tank with 3 color stripes, red, glodish bronze and black. The end result is an absolutely amazing bike with unique colours.
This bike was up for grabs at DP Customs but has now sold. Not to late for you to get yours done though, bring your donor bike to the brothers and they will give it your dream makeover. Built by the workin' man, for the workin' man!