Not long ago Chappell Customs amazed us with their custom Yamaha XS650 Café Racer. The brothers are back on Moto Rivista with their tastefully customized Honda CB900F.
According to Rob Chappell "This custom Honda CB900F started life as a donor bike for my own CB900F build until I got a call from an interested party and had a deposit in hand. My bike got put on hold in order to build this one.
The biggest challenge this time around was trying to stick within a budget determined at the beginning of the project. Once you get into building and know what can be done and how it should be done correctly, it's hard to just say 'Well, it's not in the budget so I guess it stays that way' as was the issue with the carbs and stock airbox. The customer originally wanted pod filters but those are a nightmare on the stock carbs so stock it remained. Funny, the customer has since switched to Keihin CR31's and pods.
The second most challenging thing was the timeline. When you build for the love it gets done when it's done, with a customer wanting the bike sooner than later all of a sudden the pressure is on. Our customer was super cool and really didn't bother us too much so it was pleasure doing the work.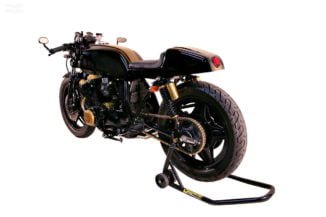 The donor 1982 Honda CB900F was stripped down to nothing but the frame, which was then de-tabbed, rear hoop bent and welded in as well as a new seat pan for the custom fiberglass tail I designed. When the frame swingarm and wheels were off to powdercoat I started on the engine cleanup, it was rebuilt recently so that saved some steps and it received fresh powdercoat on the valve cover, side covers and starter cover.
Originally this bike had a very decent dual exhaust that I was going to try and re-use, but I had a problem with the dual exhaust and the kickstand relocation as well as the position of the rearsets. I opted for a new 4 into 1 Vance & Hines unit and I designed some some cool rearset and exhaust mounting brackets and had them cut on my friends CNC plasma machine.
In the back the seat was stitched by a racing buddy (bickleracing.com) who repairs leathers for a living, and I riveted it to the custom fiberglass seat pan. A Lossa LED tail light was added to complete the tail. All electronics are under the tail as well as a speed cell lithium battery. Up front I used 2.5″ mini gauges, idiot lights added to the headlight bucket. Clip-ons are Woodcraft units that were milled out to 39mm and black ZX6R clutch and master complete the look."
According to Rob Chappell " The favorite part was the delivery because the customer had been kept out of the loop as far as photos go, so it was sort of an unveiling at delivery, and it went very well."
Special thanks to the brothers for putting up such a creation and also taking some time to tell us the build story of this black and gold beauty.
CB900F Build Sheet:

New rear shocks
All Balls tapered steering head bearing
CBR600RR 03-06 SPEEDKING adjustable rearsets
Custom plasma cut brackets (rearsets, exhaust & signals)
CBR600 F3 kickstand
Kawasaki ZX6R/636 Clutch and Front Brake perch/lever
Goodridge steel braided brake lines (new DOT4 fluids)
Custom designed fiberglass tail
Custom fiberglass seat pan and custom stitched seat
Lossa Engineering LED tail light

New headlight and bucket
New billet signals
New grips
LED "idiot" lights
New 2.5" speedo and tach
New 4 into 1 Vance & Hines exhaust
SpeedCell lithium battery
RK 525 Gold chain
Frame and Wheels sandblasted & powdercoated gloss black
Valve, engine and starter cover powdercoated gold
Woodcraft Black Clip-ons custom milled to 39mm