Moto Guzzi was established in 1921 Mandello del Lario, Italy. Throughout history Moto Guzzi have played a major role in the Italian motorcycle industry.
From an eight-cylinder engine, motorcycle center stand and wind tunnel, Moto Guzzi have brought forward a series of innovations. Today we are stepping back in time and taking a look at the Moto Guzzi Airone Sport.Moto Guzzi Airone (Heron) 250 was the most popular mid capacity motorcycle in Italy and rapidly became Moto Guzzi's best selling single cylinder.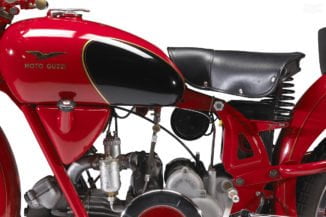 The production of Airone (Heron) began in 1939, with the sport version and higher performance in 1948. Airone Sport combined Moto Guzzi's notorious quality of construction and pleasant aesthetic, the Airone Sport gained an enviable reputation as a true luxury lightweight. With interest from the army Moto Guzzi decided to create a new Militaire model for that market.
The Moto Guzzi Airone Sport has a horizontal single cylinder, four-stroke engine and has a maximum speed of around 60 mph. The cool looking external flywheel was a feature of all the Moto Guzzi models.
The one you see here is a 1952 Moto Guzzi Airone Sport 250cc, which has been restored in England. This Airone Sport is a true classic motorcycle packed with remarkable Moto Guzzi evolutions. This particular 1952 Moto Guzzi 250cc Airone Sport was  auctioned and sold for US$ 9,775 at Bonham's on 8 May 2010.