Personal custom projects are the best way to test your skills and claim that individuality amongst an ocean of motorcycles. For today's feature we will take a look at this custom Kawasaki Z650.
We spotted this custom Kawasaki Z650 on Garage Project Motorcycles; it was built by Chris Plank from Austria. The bike had been sitting in a garage for 12 years until Chris bought it for 800EUR in early February.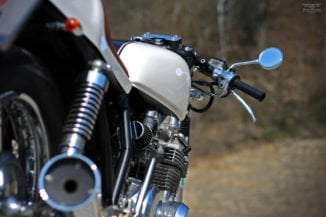 The entire build took place at Chris's work; at first he wanted to see if the stock engine was still running. After making some adjustments and a few kicks down the stock engine came back to life. I guess it's the basic ritual before getting down and dirty to make sure the engine is in good condition.
Later the entire bike was stripped down to the engine, Chris repaired the sprocket for the freewheel clutch and put in a new repair kit for it. The carburetor was cleaned out and installed back on the bike.
Chris also polished the dirty and rusty switches and fittings for the handlebar, rims, engine covers and the muffler. He also worked on the front forks with new seals and oil. The rear of the stock bike was modified to fit the tail; and Chris made a ground-plate for the electrics. The battery has been fitted underneath the rear cowl, which is perfect place for the electrics.
The stock fuel tank was painted with Marakesh Brown(BMW) stripes. Chris also used an aluminum plate to integrate the tachometer and cover the lower original handlebar bracket.
At this point the old stock Kawasaki Z650 was completely transformed into this classy looking Cafe Racer. The finished bike looks nice and simple and Marakesh Brown(BMW) just adds the classic feel to this beauty.