Mr Martini is a custom shop out of Verona Italy. The brains and creativity behind the business is Nicola Martini who is a big fan of classic 1950's British Style.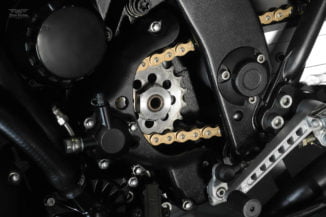 The M-Tripp is based on a Triumph Thunderbird Sport, looking at the bike you will notice that Mr. Martini has done some technical changes to the M-Tripp. The only work on the engine was the installation of the Dyno jet Kit and a Supertrapp muffler to give the engine an extra kick.
The front end has been completely redesigned; the stock forks were replaced with the upside down Ducati verbatim fork. The M-Tripp also features Brembo gold brakes and a swing arm from Speed Triple. To adjust the fork and brake system with the refined circles, braking wave discs had to be integrated to build ad-hoc steering plates. The rear of the bike is original Mr Martini style and the level of modification on this bike makes it look like a factory special manufacturer.
There is a lot to like about Mr Martini and an array of bikes to admire. In particular what we like about the M-Tripp is the red engine covers and the overall look of the bike – charming and inviting!