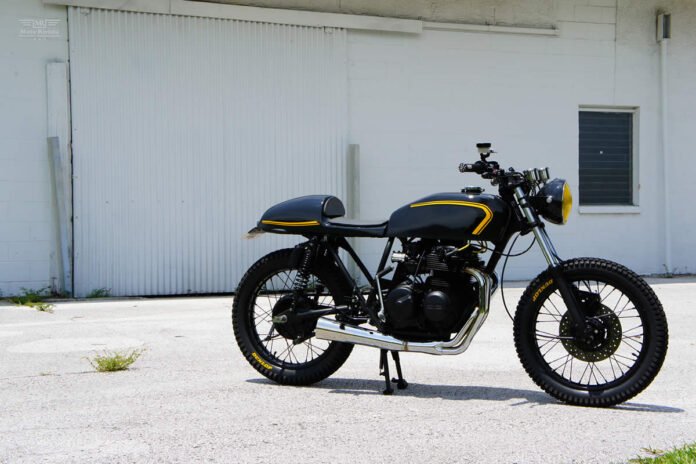 Dan Rodriguez and Michael Mundy are the co-founders of Steel Bent Customs, Tampa Florida. We spotted this beauty the 1975 Honda CB400F Cafe Flat-Track Racer for sale on ebay.
Steel Bent Customs describe themselves as garage builders who started their business back in 2009, finally going public with a long held passion. They started out as G-Back Customs but have since changed their name to Steel Bent Customs.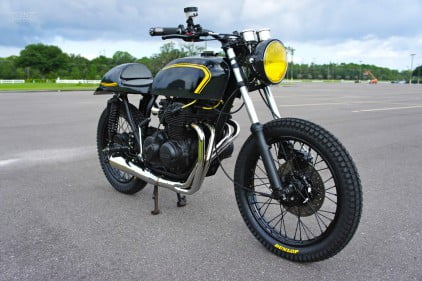 Setting it apart from others is the combination of flat track and cafe styles. Prior to being purchased this bike had seen better days. The build started with the old 1975 Honda CB400F (See the old picture) and some heavy customization. The frames were reinforced and the carbs were rebuilt and Matt painted along with the engine. The Honda CB400F rolls on brand new wheels with a pair of Dunlop Flat-Track tires. The bike also features flat-track handlebars, rebuilt coils, controls, rear-sets, gauges, exhaust, brake pads & rear shoes and a petcock.
The guys from Steel Bent Customs have done a fantastic job with this build, the black paint job on the body and the yellow lines on the tank and rear cowl give this bike a retro look. The yellow lettering on the tires is a nice touch and also looks fantastic.
According to Steel Bent Customs "All bikes are for sale. We build them, then kick them out to make space for new builds". That's exactly what we like about these guys, nice looking machines that you don't just have to dream of owning. This one has just over 5 days to go on ebay so you better be quick to check it out.
Ebay link – 1975 Honda CB400F Cafe Flat-Track Racer