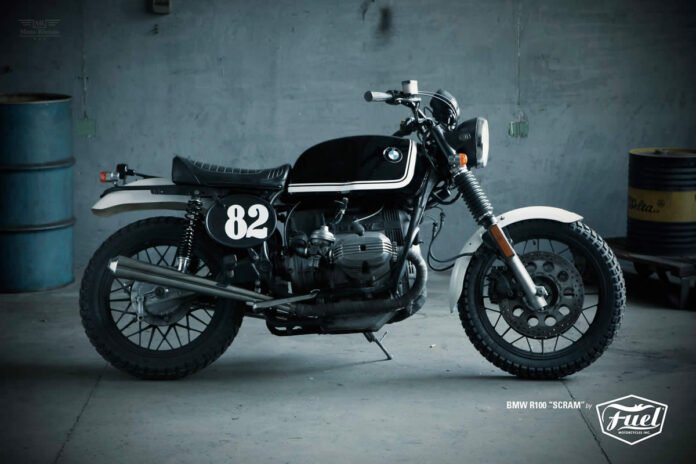 It is no secret that many of us at Moto Rivista would love nothing more than to be one of the custom builders we write about. Karles Vives from Fuel Bespoke Motorcycles, Barcelona Spain gives us that hope that perhaps anything is possible.
You see the BMW R100RT Scram was the first motorcycle Karles had even attempted to customize. Its amazing to us that someone with a little mechanical knowledge who was unsure if he could customize it was able to take a book by Jeremy Churchill "BMW 2-Valve Twins '70 to '96 coupled with a lot of patience and passion and turn this bike into something special.
Karles' idea behind Fuel Bespoke Motorcycles  was a way to express what motorcycles mean to him: freedom, speed, individuality and beauty. Most important for this build was comfortable riding, a cool look and a low cost custom. This lead him to chose the Scrambler style, perfect for his first custom project.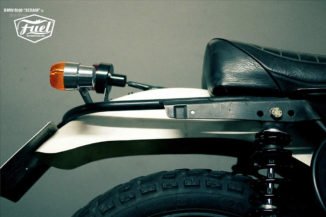 The build started with a 1982 BMW R100RT, which Karles decided to strip down the bike by taking off the luggage and the fairing. Although in good working mechanical order, the shocks had almost had it and the handlebars and paint weren't originals. The road tires of the BMW R100RT were replaced with off road tires and the rear fender was taken from an old enduro bike. The bike also features a brake disc designed by Fuel and manufactured by a brake disc company in Barcelona. The handlbars were taken from a Yamaha XT500.
The build only took 3 months and when you look at the before shot of the stock BMW R100RT,  you can see the impressive transformation. If this is what Karles can produce on a first attempt we can't wait to see what else he can do!