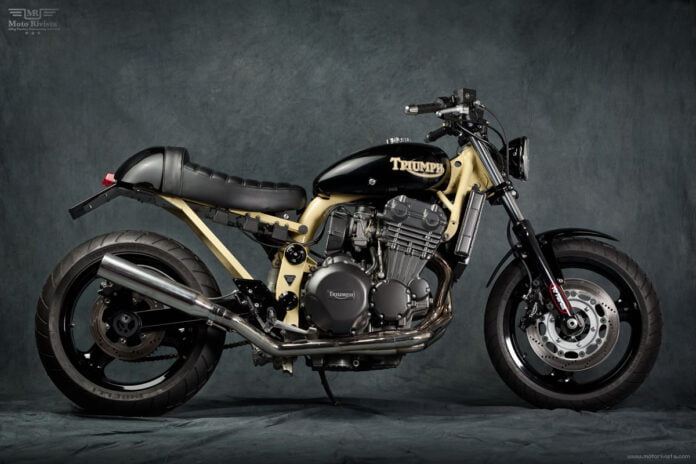 Verona based Mr Martini is a brand made out of sheer passion, dedication, research and unique creativity. Mr Martini lab sums up the long-time experience of Nicola Martini. The feature of the day a Triumph Sprint 900 aka Charlie was nurtured in the Mr Martini laboratory.
It's a place where things are not only created, but experimented with, and where unique motorbikes are created: Mr Martini explores new concepts about motorbikes and accessories, creating new styles.
This special was born from Triumph Sprint carburetors straight from the nineties. The bike was lying for some time in the garage and Nicola had the idea to create something different and unusual but keep the original structure. He was curious to see the effect of a smaller tank other than the standard one. Nicola tried to fit a smaller tank that came from a Royal Enfield and the effect was surprising: at this point he had to complete the work on the bike's back. Nicola had the idea of adding a BSA Gold Star back tail evoking the spirit of the 60's racer bikes.
To begin with the stock bike was completely disassembled and lightened about 40 kg, lowered several inches and the bike was the subject of a rich transformation. The engine was the same of Triumph Sprint except for a more open air filter and a carburation kit to allow the new exhaust 3 in 1 to work better.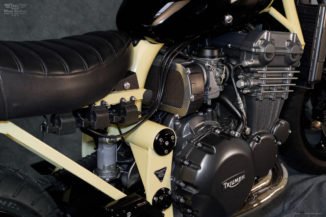 The frame has been colored in a delicate cream color, the electrical system has been repositioned with three coils that are a unique aesthetic element. The bike has been completely "cleaned up", and even the middle of the original handlebars doesn't appear anymore.
The headlight come from a Triumph Speed Triple while the rear is a classic Lucas. As Charlie gives the impression of being an easy and comfortable bike, it words "Peace & Love" have been designed in the rear of the frame. The name of the bike "Charlie" was enclosed in a color cream heart that contrasts with the glossy black tank. Charlie is the name of Nicola's daughter to whom he dedicated this special.
Charlie was exhibited for the first time at the 2011 Bike Expo in Verona and was awarded with enthusiasm. Changes to a serial bike with simple modifications stunned even the experts. The aesthetic result revealed a very original and unique bike! This special was so popular that it is the first of a small series created with different colors and also in a racing version.
Curiosity: In the ads to sell old Triumph Sprint bikes, the sellers, to entice the purchase usually write "The ideal bike for exceptional transformations such as Charlie by Mr. Martini!"
Special thanks to Mr Martini for allowing us feature his Triumph Sprint 900, to find out more about Mr Martini's builds please visit his website.