Today's custom feature a '69 Triumph TR6' comes all the way from Finland. Built by custom motorbike builder Tommy Nasib, the Model TR6 is his third ground up build.
Tommy Nasib built this fine '69 Triumph TR6 for himself. It took him about 3 years to finish his project, with the biggest challenge during the process was a lack of money. Many parts on this 69 Triumph TR6 were hand fabricated, Tommy is a very humble builder who has a persistence of doing things from scratch. It is sort of a philosophy to Tommy when building bikes, low budget, handcrafted parts and uncompromising quality thus delivering true craftsmanship.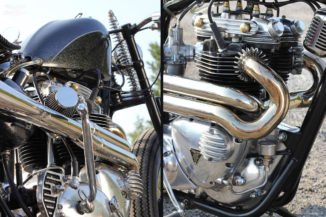 The whole build started from the firestone 18-inch rear tire, which was lying around in the garage. Tommy had this basket case Triumph 650 motor, frame and beat-up original wheels. The picture of the finished bike was corroded in his mind. After mocking up the parts on the floor, Tommy started to grind, weld and tool his magnificent Triumph together.
Tommy's custom '69 Triumph TR6 features a hand fabricated bolt on rigid frame, the basket case Triumph 650 motor was re-assembled and bolted on to the rigid frame. The Triumph 650 motor also features an Amal carburetor, power air filter and handmade stainless custom exhaust system.
At the front '69 Triumph TR6 includes Bates replica headlight, handcrafted stainless steel handlebars and a handcrafted front suspension. While the rear features hand fabricated rear fender, mini Bates taillight and an oil tank made out of fire extinguisher which also features stainless ribs on the sides. Tommy also added a narrowed and lowered Sportster fuel tank to bring the classic lines of a bobber and a handmade black leather seat from Old Jacket was also fitted.
Other fabrication work includes handmade stainless controls; Triumph foot pegs and a battery case which resided within the oil tank. The finished bike rolls on original Triumph wheels, 19-inch front and 18-inch rear with both wheels wrapped in Firestone tires. Tommy's bike was painted in metal flake by K.Karhunen.
Special thanks to Jussi Lindgren for helping us with this feature on Tommy's Triumph.  Take a look at the featured article on Jussi's own build an Old School Sportster called Petroleum Spirit