Today's feature bike Kaffeemaschine #6 is quite mesmerizing, if I was a custom addicted wasp the rider of this beauty would have a hard time getting rid of my attention.
A custom Moto Guzzi Cafe Racer built by our good friend Axel Budde from Hamburg. Axel and his flawless creations have been crowned at Moto Rivista several times, this particular one is my favorite so far (although I think that about each of Axel's builds!!).
The bike was built for Brian Cowan in the UK, he wanted a pure custom race-bike for vintage racing. Brian's initial brief to Axel was the bike should be fast, painted in red and silver and have cast wheels. On top of that Brian wanted to ride The Bikers' Classics with it, so the build schedule was pretty tight.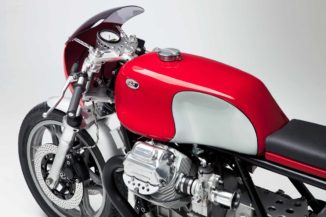 The build of this custom Moto Guzzi is based on a 1980 Le Mans frame built from single components. Trapped in the frame is a modified and HTMoto tuned V11 motor (1040ccm, 95hp). Axel also modified a LM1 fairing and chose a Magni-shape GFK fiberglass fuel tank.
At the front this custom Moto Guzzi Cafe Racer features a revised Guzzi original fork with modern dampers and springs, shocks are special Ikon ones and the brake mechanism is new and improved.
All the rest of the parts are hand fabricated by Axel as usual. According to Axel "The biggest challenge was timing, as Brian attends the Biker's Classics this weekend I didn't have too much time to complete the project, only about 2.5 months. After Brian has broken in the engine, I'll set the carburetion with a portable Lambda instrument while riding- I can't wait to give that beast full throttle".
This custom Moto Guzzi has classic looks and is loaded with high-performance, that's what you get when you go to Kaffeemaschine. Good luck to Brian, just be careful at The Bikers' Classics don't try to go too fast and wreck that brand new engine. Whats next? Axel tells us he is already working on his next build, a street-bike for himself….we will be keeping an eye out for that!
Check out the other Kaffeemaschine featured articles, Maschine 2,  Maschine 3 and Maschine 5