The international affair is back on Moto Rivista our friend Axel Budde from Kaffeemaschine is ready to showcase his creation a Moto Guzzi Cafe Racer Maschine 5.
It was quite a few months ago when we featured a Kaffeemaschine bike for the first time, Maschine 3 also revealed Axel's passion and love for the Italian Moto Guzzi.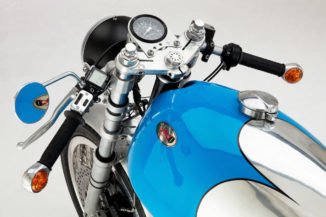 This classic and elegant beauty Maschine 5 was built for Axel's customer Thomas Gruner, who had bought a 1989 Moto Guzzi Le Mans 4 in pieces and didn't have a clue what he had or how to put it together! He arrived at the Kaffeemaschine workshop and asked Axel to build a custom Cafe Racer using all the pieces of his Guzzi Le Mans 4 puzzle… what a task!
According to Axel "I was struggling a lot with the total crap inside of his engine and some parts, it was obvious he had bought a disassembled bike which had been in an accident, suffering engine damage. He immediately fell in love with the tank lying around in my workshop (though not really ideal for the high neck of the late Le Mans frame), which became his only definite wish for the bike.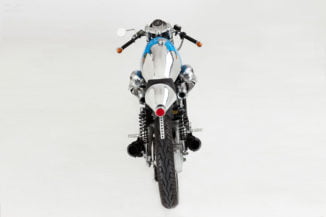 Except for the tank, I built all the alloy parts on the bike by hand, as usual. The engine and transmission got a total revision and now have brand new stock Le Mans 1000 specs (950ccm, 81hp).
Even with the original power, the Guzzi is performing great after the 183kg diet (the stock Le Mans 1000 is around 240kg) only the frame loses 3.5kg of steel.
The modified fork is from a California with special stainless steel discs and the brakes are equipped with modern calipers and a momentum support on the rear. The exhaust is Lafranconi, shocks are Ikon, and the rev counter is from MMB. The minimal wiring harness was built by myself.
I think Thomas is not the guy who'd fit a totally classic motorcycle (in his case, that's meant as a compliment). I chose the seat shape and the type of paint because of the impression I had of him, I wanted it classic and elegant but a bit of hot rod too, away from the iconic Italian racer".
Kaffeemaschine has done it again, I'm sure Thomas is having a blast riding this true beauty around town. Stay tuned for more from Kaffeemaschine!