Have you ever got paid for speeding? I didn't think so, I am sure that adrenaline rush usually costs money, but that's not the case for Kaffeemaschine's Axel Budde.
Axel used to be a performance and precision driver for the film and photo industry. His job involved driving cars, motorcycles and trucks up to 7,5 tons at high speeds allowing cameramen to capture that special velocity shot.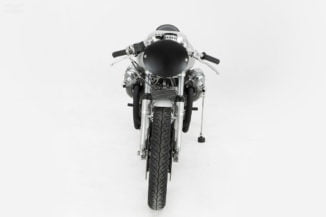 These days Axel is a man whose killer craftsmanship can be easily spotted on a custom Moto Guzzi Le Mans. With today's article we are getting up close and personal with our friend Axel Budde and his personal ride Maschine 2.
According to Axel "I liked motorcycles since I was a kid, I grew up in the countryside and transportation was a big desire. Besides, I was a pretty innocent and weakly boy and it was so easy hiding that with a leather jacket. I always liked speeding due to my former job in car photography. So I tried my street bike on the track and got quite eager and wanted a pure race bike, too. After some accidents (on the street!), now I have to admit I am much too careful to be fast again. But still it's great having track days with other classic bikes and meeting all their interesting and friendly owners.
I'll never forget my first Guzzi ride, after a desperate search for a more powerful (and affordable) classic motorcycle, when I turned 20. Lying on that flat and long bike, felt so strange (compared to my first bike, an old BMW) but appealing. And that noisy, massive engine underneath felt like Thor himself was smashing his hammer against the back of the bike. The monumental engine in this tight Italian dress is a very special combination, which still amazes me, even after all those years and several accidents. I would always build up a bike like that again and again (and I had to…)- it became my self-expression.
For me, a custom Cafe Racer is a reduction to the max, for the sake of better performance and riding qualities- if you do a good job, it´ll look good, as well".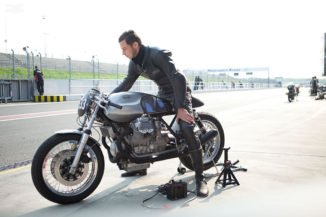 With 16 years experience modifying Moto Guzzi Le Mans the bikes Axel delivers are pretty amazing, in most cases Axel will build them from scratch. The build of this Maschine 2 is based on the Moto Guzzi Le Mans 2 frame, which was modified and reduced. Trapped in the Le Mans 2 frame is a heavily modified and tuned by HTMoto Le Mans 4 engine 1040ccm V2, churning out a total of 95hp.
At the front this classic Cafe Racer features a fully adjustable Yamaha fork and the rear has been fitted with modern Wilbers shocks. Except for the tank which is aftermarket, Axel built all the alloy parts on the bike by hand, as usual.
According to Axel "The biggest challenge was rebuilding it partly after an accident on the track on its first use! And worse still- it wasn't my fault- a Laverda lost all its oil".
The finished Moto Guzzi Le Mans Maschine 2 weights only 173kg. This classic race bike has been striped to the bare minimum for one true purpose and that's speed with style! If you ever want a tastefully customized Cafe Racer or Vintage race bike Axel is the man you should get in contact with.
Check out the other Kaffeemaschine featured articles, Maschine 3 and Maschine 5.