Ever wondered what would be a classic transformation of a modern beast? Check out this 2012 Custom Kawasaki Z1000 a build by the Bostrom Brothers with some help from Jay LaRossa at Lossa Engineering.
It all started when Cafe Racer TV test rider and professional super bike racer Eric Bostrom tried his hand at building a custom Cafe racer. Eric who has been long associated with speed and green and bearing Kawasaki on the tank, wanted to strip down a brand new Kawasaki Z1000 and turn it into sleek machine and one-up his brother and fellow CRTV test rider Ben.
Café Racer TV approached Jay LaRossa at Lossa Engineering for their season 3 and told him how Eric Bostrom wanted to do a classic transformation of Kawasaki Z1000 naked bike. Eric wanted the bike to look like an old school 70's Kawasaki race bike.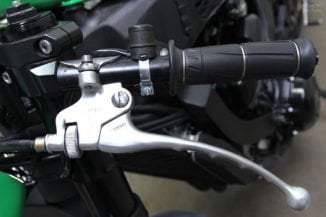 According to Jay "Since Gary Nixon's passing he wanted to make it a tribute bike to the great legend. Eric and his brother Toren were going to build it out of his garage, I saw some of the pictures of what he wanted to do and realized he needed much help with achieving the look he wanted".
The Bostrom Brothers customization work includes a new subframe, which was built from scratch. At the front this custom Kawasaki Z1000 features new clipons, Tommaselli clutch lever, Grimeca master cylinder and a Kawasaki Racing tachometer. The bike also features a hand made LeoVince exhaust with triple ends.
Jay LaRossa offered his metal fabrication skills to complete the build of Eric's custom Kawasaki Z1000. For this build Jay hand crafted a one off gas tank and did the bodywork. Jay also made billet wheels, which mimicked the vintage Kawi mags from the 70's. The bike also features a fiberglass ducktail style solo section from Glass From the Past.
Other fabrication work from Lossa Engineering includes a highly modified vintage fiberglass front fender and last but not least the custom Nixon tribute paint job. If you look at the stock Kawasaki Z1000 and this custom one you will be amazed. You can also check out the bike on Café Racer TV season 3 episode #1 & episode #2.