Dick Mann is a legendary name in motorcycle racing history, his Honda CB750 owns a special place in racing history winning him the Daytona 200 race in March 1970.
The bike you see here is Dick Mann's CB750 replica built by Sydney based Extreme Creations; a custom shop which specializes in Streetfighters and highly modified motorcycles. The bike was taken to Extreme Creations as a wrecked Honda CB750 with instructions to build an accurate replica of Dick Mann's Honda CB750.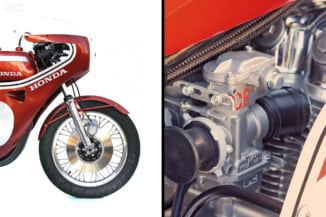 The finished bike is a blast from the past, Extreme Creations Ben and Pete have done an astonishing job in replicating this piece of history.
Lets get a little flashback about Dick Mann and his Honda CB750. Dick 'Bugsy' Mann was a two-times AMA Grand National Champion, he was also one of a few riders to compete on the national level in dirt track, road racing and motocross.
Dick Mann was known for being one of the most gifted and versatile riders, and for wearing a cheap straw hat while working on his motorcycle. Daytona 200 was the track which he had already attempted fifteen times without success. Finally on March 1970 Mann won the Daytona 200 race on his Honda CB750, defeating former world champion Mike Hailwood, and rising stars Gene Romero and Gary Nixon.
Mann was second on the all-time AMA Grand National Series wins list with 24 national victories and had one of the longest careers of competing successfully on the pro circuit spanning the early 1950s to the mid-70s. In 1993 Mann was inducted in the Motorsports Hall of Fame of America and Motorcycle Hall of Fame in 1998.
The replica above in the picture was up for sale at Deus Camperdown. We don't know how much it sold for, my guess would be $21,000 USD..whats yours?