Perfection is what we thrive for more and more and yet nothing is perfect. But look at this vintage beauty the BMW R16 and tell me if you would dare to change anything?
Throughout history BMW motorcycles have been setting milestones, from great innovation to design, BMW motorcycles have always been an object of desire that everyone loved.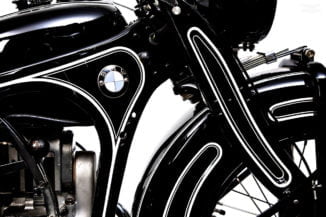 The year was 1929 when BMW introduced a major innovation to its motorcycle range. The transversely mounted flat-twin engine was already a BMW trademark. For the first time it was installed in a pressed-steel frame, the first models to slot in this landmark motorcycle design being the 735cc R11 and R16.
BMW's relatively-free engine was already a great example for smoothness and refinement, and this coupled to a three-speed shaft-drive transmission made the overhead-valve R16 one of the finest large capacity sports motorcycle's of it's time.
BMW R16 was produced from 1929 to 1934 and it was produced in a five series. The BMW R16 featured  2 cylinders, 4-stroke engine with 736 cc (44.97 cubic inches). Dry single disc clutch combined with a 3-speed manually-operated gearbox and rear wheel drive Cardan shaft. The frame of the BMW R16 was pressed steel sections with rigid rear wheel suspension.
With 25,828 kilometers on the odometer, this 1931 BMW 735cc R16 was auctioned at Bonham's with a final sale price of €57,500.