AC Sanctuary

is a healing temple for 70s and 80s four-cylinder superbikes, it's a place were old Japanese motorbikes get modern day racing transformations. Their latest jaw dropping creation a custom Kawasaki Z1 aka RCM-242 is just priceless.
AC Sanctuary came to existence in 1995 by early Japanese superbike fanatic Hiroyuki Nakamura. Japanese legendary models are the base and inspiration for AC Sanctuary customizations. Infusing a retro style with a mix of modern day performance upgrades is something they do on a daily basis. AC Sanctuary is not the place for demand and supply; here bikes become a real complete machine. They are packed with hi-performance parts and restored old-school looks.
Up to this point AC Sanctuary have built more than 150 different RCM ( real complete machine ) bikes. Their three-story Edogawa, eastern Tokyo, based headquarters holds 20 employees. They also have six other branches scattered around Japan.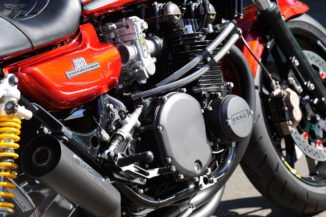 Their latest creation Kawasaki Z1 aka RCM-242 is packed with mind-boggling customization. Based on the stock Z1 the bike was stripped down to the frame. The stock engine was also stripped and carefully refurbished; tuning mods include hot cams and bigger valves. The crankshaft was rebalanced and strengthening parts modification features a heavy-duty DID cam chain and Z1000 POLICE clutch housing conversion. The tunes Z1 powerplant is fed by Mikuni TMR carbs and fitted with a NITRO RACING hand bent steel megaphone muffler.
The original stage II frame on this custom Kawasaki Z1 is stripped, readjusted precisely and than strengthened with gussets at the steering head. The rear is fitted with the most popular Öhlin suspension while the brakes are from Brembo. At the front this custom Kawasaki Z1 features a genuine ZRX1200 fitted Daytona handlebar and a genuine ZRX120 front fender. The finished bike rolls on 17-inch front and rear tires wrapped in Dunlop Qualifier II tires.
The details and the level of craftsmanship on this custom Kawasaki Z1 are what make AC Sanctuary so special!