I know about the complex history and rich architecture of Belarus, what I didn't know is they could build killer custom motorcycles like this Ducati GT1000 Shifter. The spark of the custom scene in Belarus has been ignited by Yuri Shif Custom.
The Republic of Belarus, is a landlocked country in Eastern Europe bordered by Russia to the northeast, Ukraine to the south, Poland to the west, and Lithuania and Latvia to the northwest.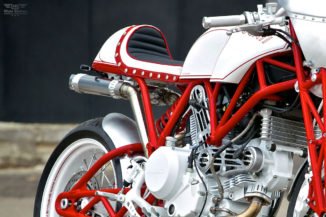 The shop is owned and operated by Yuri Shif, whose craftsman skills are beyond my imagination. Motorcycles built by Yuri Shif  have been featured in many motorcycle magazines in Russia and throughout Europe. Looking at this Ducati GT1000 Shifter I have to admit that this bike is one of a kind. When you look at the stock Ducati GT1000 I bet you wouldn't dare to customize it! But that's not the case with Yuri Shif Custom they have taken something, which was already great and made it their own.
According to Yuri  "Ducati is one of not many bikes that have a soul, even when you are just standing right next to the bike, you can feel it's alive. I love Ducati."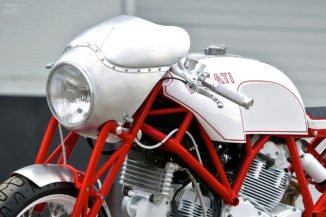 Lets get down to the build of Ducati GT1000 Shifter; the base for the build was GT 1000. The front and the rear suspension were made in the form of space trusses style Ducati. The fabrication work includes a hand fabricated aluminum front and rear fender. Yuri Shif Custom customized fuel tank, custom handlebar, Yuri Shif Custom battery case and a custom fairing. The stock Ducati GT1000 engine is fitted with Yuri Shif Custom customized exhaust system.
I don't think this article could cover all the details of this bike, but the pictures will tell the story of the incredible transformation of the Ducati GT1000 Shifter. Fire up the image gallery to feast on the details of the bike!