We haven't found a bike we don't like from Santiago Chopper, previously we have featured the Norley Café Racer and the Classic Café 1958. Today is no different with another piece of art from Santiago Chopper the Kawasaki Z1000 Breitling Café Racer.
This magnificent Kawasaki Z1000 Breitling Café Racer was built by Alain Bernard and was featured on the series Café Racer TV that aired on the Discovery Channel.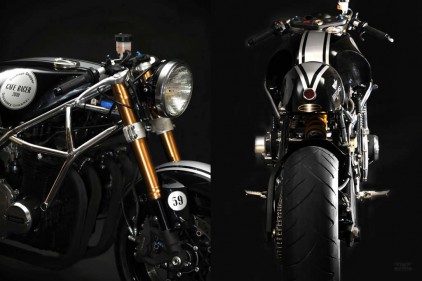 The frame on this Breitling is an original 70s Martin frame, French born George Martin is a well respected name among custom café racer builders. He was a true gentleman and credited in revolutionizing the Café Racer movement in the 1970s, from manufacturing gas tanks, handlebars, rear fenders and frames.
The project name Breitling came from the famous Swiss watch making company and Alain had previously built a bike for its owner. The heart of this Café Racer is based on a 70's Kawasaki Z1000, the engine sits on a vintage Moto Martin frame. The swing arm, wheels and suspension were taken from a 2007 Suzuki GSX-R600. The tank resembles the look of an original Martin tank and has a Benelli seat. The huge round headlamp takes you right back to the 70s. The golden forks add the beauty to this beast; while the white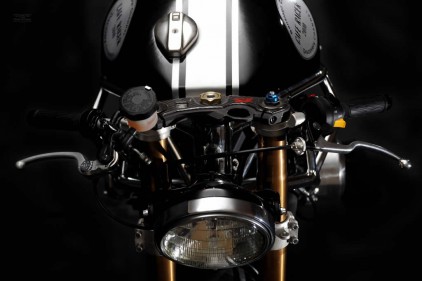 strip paints runs down from the tank to the rear hump. A kick-start was installed by Alain another reference to the 70s. The exhaust was chopped and shaped by Aztech welding.
The Kawasaki Z1000 Breitling Cafe Racer was auctioned to raise money for the Curing Kids Cancer Foundation.
We love the combination of vintage and contemporary style on this Café Racer. We have also added the quick video (click here to view) preview of The Breitling .