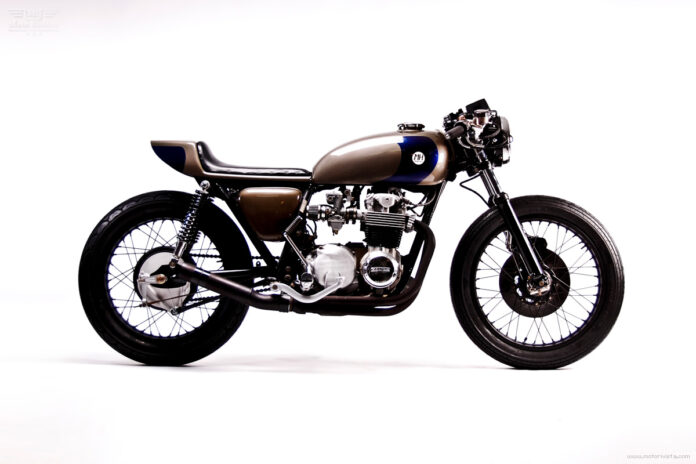 Café Racers were born to burn the adrenaline rush in the 1960s. Since then to this day, the Café Racer culture has spread its roots across the globe. MotoHangar's latest creation, a Honda CB550 is a testament to the old roots of the Café racers.
Keeping that old-age Café tradition alive is our friend Pat Jones, who's custom crafts have been appreciated and featured on Moto Rivista numerous times before.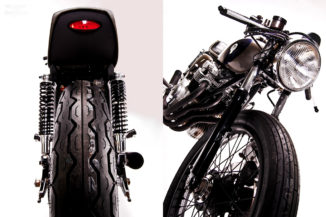 Based on a 1976 Honda CB550, this custom Café racer has been hand crafted at MotoHangar's workshop. The build started by stripping down the unnecessary bits and modifying the essentials. The stock frame was modified at the rear to adopt the new tail piece and seat. The top end of the motor has been rebuilt, rings, cylinder hone and gasket set. The original speedometer has been removed and replaced with a smaller CB350 speedo. The engine has been fitted with a handmade silencer and attached to factory Super Sport headers.
Up front on this custom Honda CB550, the suspension has been lowered 3/4″, the headlight has been tucked in with custom bracket, clip-on handlebars have been added and the small taco finishes it off nicely. The fabrication work includes custom one off tail fairing with integrated tail light and a hand made seat. The bike rolls on brand new Bridgestone tires and has been finished with cast coat iron and stellar blue pearl paint.
According to Pat, "This custom Honda CB550 runs and performs as if it were new. This beauty starts and runs great". This Honda CB550 is not a full restoration but is a very clean example of a professional built custom cafe racer.