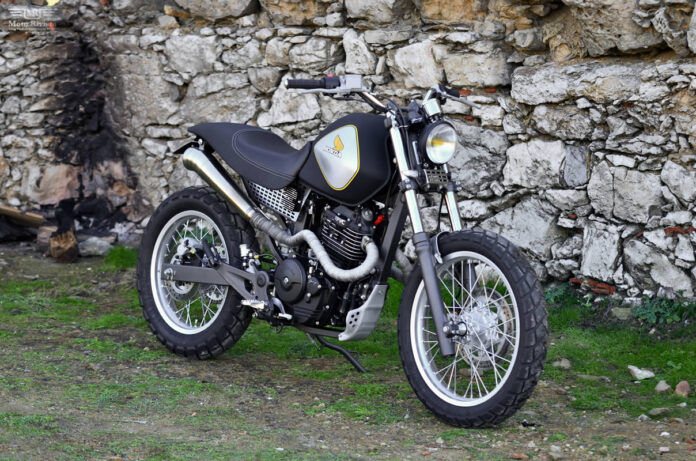 The motorcycle culture in Portugal is becoming increasingly more popular. This interesting custom Honda FX 650 Vigor is the creation of Sebastiao from Lisbon in Portugal.
According to Sebastiao "I am a motorcycle mechanic since I was 18 years old. For most of my career, I was a workshop leader in one of the biggest official Honda dealers in Portugal. Since 2001 I've been working on my own, i've always liked to create new solutions and transform and fortunately I had some clients open to it.
This Honda FX 650 Vigor was a customer´s bike that they wanted to sell after a year… and I bought it. Looking at the bike I started to imagine what I could do to make it fun."
The base for this build was a 1999 Honda FX 650 Vigor, which is not a very loved bike in Portugal. To begin the build Sebastiao striped it down piece-by-piece, including the engine. The stock frame was modified at the rear to adapt the new style. The fabrication work includes a handmade battery case and handmade pipes with Danmoto muffler.
At the front this Honda FX 650 Vigor features a Drag Specialties headlight and LSL handlebar, while the rear houses a Vicma taillight. The stock seat was hand curved at the back, upholstered matte black and sewed up new. The customized Honda FX 650 Vigor rolls on stock 19-inch front and 17-inch wheels at the rear wrapped in Metzeler Tourance tires.
According to Sebastiao "I didn´t have many resources and the biggest challenge was to make a different bike, reusing as many original parts of the bike as possible. Many of the pieces were hand made with the original parts and materials re-adapted."
The fuel tank was painted leveraging the curves and using an old Honda logo, while the frame was painted and lacquered in dark gray. The transformation from stock bike to the customized Honda FX 650 Vigor is quite radical, Sebastiao have done fair justice to this build.