DP Customs, the Arizona based custom shop is owned and operated by the Del Prado brothers. We have wanted to feature today's bike for awhile and figured what better time than now, introducing the 'Gulf Bobber' based on a 1979 Harley-Davidson Ironhead.
In the Creating Customs episode on DP Customs Justin says this is one of his favorite bikes they have built. We were interested to hear the story behind the build and asked the brothers to tell us about this bike.
Jarrod explains "The design for the Gulf bike actually started a few years ago when I was shopping for a Christmas present for my brother. I ended up finding a really cool Steve McQueen race suit replica jacket from the movie Le Mans. It was perfect because my Bro and I are both big fans of the movie and we love vintage Ford race cars. What we noticed right away was how great the orange and blue stripes contrasted against the bright white of the race suit – and that we had to build a bike in those colors!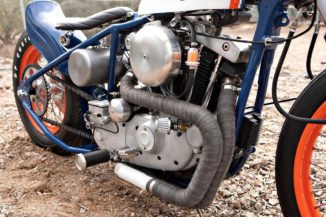 We'd seen renditions of the Gulf theme on the new Ford GT and a custom bike or two, but they stuck with the traditional baby blue paint scheme from the original GT40. We wanted to go with the bright white on the tank to match the race-suit, and we liked the fact that white generally seems to be a rare color on Harley's.
Bright and different colors are essential on DP Customs machines. We went with a darker blue on the frame and 'spoilered up' fender, then we set it all off with Gulf orange on the powdercoated 21″ and 16″ wheels. The bike was slammed and stretched with a custom hard-tail, and fitted with a DP Customs one-off staggered exhaust.
The end result was a stunning and truly unique motorcycle that rides and sounds great.  We've had many requests to build another Gulf bike, but we are committed to keeping the original as a one of a kind!"
Finished with the feature and got some time to spare check out the 'Creating Customs episode on DP Customs'
To see more from DP Customs check out these other featured articles:
Top Fuel II, Naked Cafe, 79 Cafe Racer, Look Right, 85 Grabber Cafe, 1982 Sportser Le Mans.