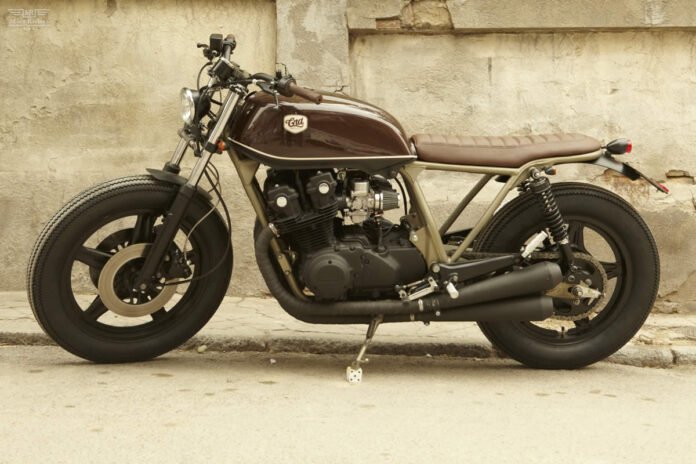 The rumors are true Moto Rivista has a soft spot for Spanish Custom Workshops. From the motorcycles, to the websites, to the merchandise, everything we see we just can't get enough of! We just wish we knew a little Spanish!
We are always excited to see a new bike from Cafe Racer Dreams, Spain. Introducing Honda CB750 KZ aka 'Brownie' which is an evolution of CRD #3. Brownie is based on a 1980 Honda CB 750 kz and had a transformation build time of 3 months. So how do you take a great looking motorbike CRD#3 and transform it into a greater looking CRD #9? Cafe Racer Dreams had the perfect recipe for this build and just needed to find the right ingredients!
To begin with the bike was stripped back, considering CRD #3 had been ridden for about a year it took almost a gallon of degreaser to remove the debris from the chassis, engine and tires. The engine was painted with heat resistant paint, fitted with Keihin Carburetors  and a 4 in 4 handmade Megaton CRD Exhaust.
An important step in changing the look of the bike was replacing the front and rear old Firestone Military tires with Firestone Deluxe Champion tires. Cafe Racer Dreams also lowered the fork of the bike, which gives a great horizontal line to the CRD #9 build. The Handlebars were replaced with a narrower Renthal Ultra Low Handlebars, which fits perfectly to the CRD #9 plan.
The original CRD #3 tank was chopped and repositioned to match the lines for 'Brownie'. Later the tank was painted in chocolate brown with the CRD logo and horizontal line in cream, and a snuff colored upholstered seat matches perfectly. The front and rear fenders were painted in satin black, CRD also added aluminum footpegs.
CRD also hand fabricated an aluminum battery box which is fitted under the swing arm. The ignition key has been relocated to the right side of the tank and the air control/choke has been installed on the left side of the tank. Launch the photo Gallery and take a look at this beauty up close, the lines and colors of this bike are perfectly complimented by the backdrop.