Café Racer Dreams a Spanish custom shop that specializes in Japanese bikes from the 70s & early 80s, breeding great custom Café Racers.
CRD was created by Pedro Garcia (Pery) and his team, Pery has always been an enthusiastic lover of motor sports, especially the two wheelers.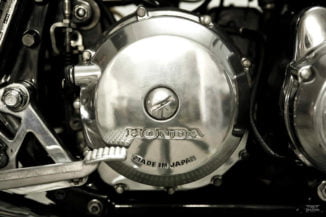 Today we are featuring the first of the Spanish CRD beauties a Honda CB900 Bold'Or 1983. Although the original CRD1 was in good condition, Café Racer Dreams decided to take the bike apart, and carefully reconstructed it to achieve greatness in every way. Later CRD sand blasted and painted the frame, swingarm, engine and the break calipers.
The heart of the this custom Honda CB900 is a 900cc Honda four-cylinder in line with Keihin carburetors and power air filters. Our favorite is the bodywork, which runs from the tank to the side panel connecting them together. "Our wish has come true, the CRD engine # 1 has roared as his first. The thundering sound was nice and whistled in our ears like a sweet melody." CRD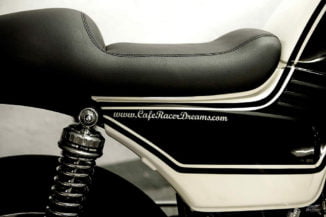 The custom Honda CB900 also features a Race Clipton Tarozzi handlebar with Tarozzi Controls. The bike rolls on 100/90/18 Bridgestone bt45 front tires, Bridgestone bt45  130/ 80/ 18 rear tires and GSX R 750 k8 pump brake. Finishing touches includes pearly cream with black paintjob and the cloud logo on both sides of the tank was hand painted.
We have also added a Great video presentation of the collection 1% of Gori de Palma. Which was filmed in CRD's workshop featuring their custom Honda CB900 and the Winning Loser El Solitario MC. (View video)