Zaeta is an Italian company, a relatively new brand owned and founded by Paolo Chiaia and specializing in the sport of flat track racing.
As a stirring of the soul, Zaeta was born in the Seventies when, in Valpolicella, Chiaia used to ride around a field with a cherry tree in the middle on his white piaggio Ciao moped trying to drift the back wheel.
In December 2008, a meeting with Graziano Rossi (father of Valentino Rossi) gave the project the spark of life. Graziano and Chiaia found themselves talking about the motorcycle that did not exist. Graziano spoke of the lightwight motorcycles that could be drifted through both left and right turns, where Chiaia talked about a light, simple bike that could be ridden on the dirt or the road. Soon both of them realize that they were talking about the birth of Zaeta 530.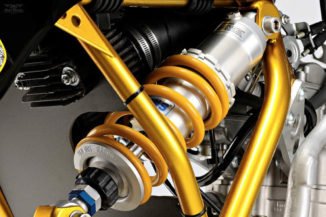 Zaeta 530 is powered by an Italian TM 530CC single cylinder 4 stroke, 4 titanium valves DOHC, liquid cooled and Keihin FCR 41 mm carburetor, fitted with custom QD-exhaust with catalyst and DB killer. The engine is mounted on custom painted steel chrome molybdenum tubes frame. At the front Zaeta 530 features an adjustable 43mm Paioli suspension and the rear is another adjustable ohlins single shock.
The glazed aluminium tank and the rest of the bike has been painted by Kustom Garage. The rear end of the motorcycle can be adjusted for it to be a road legal or a racing version.
Zaeta 530 weighs only 115kg (including oil and water), which makes it a perfect bike for demolishing tight twisties or taming the city. The Zaeta 530 was distributed in Italy through Bologna based dealer Royal McQueen and came with a hefty price tag of Euro 13,500 (for orders in 2010).