Many of us have desires to do certain things in our life, but it takes great passion, dedication and a little bit of addiction to achieve them. Spirit of the Seventies has it all; great passion, desire and addiction for building custom motorbike's.
Based in England and operated by two friends Tim Rogers and designer Kev Taggart, who are purely focused on always building something different, something nostalgic, characterful and sophisticated.
Previously we have featured their Spirit III : 650cc Twin which is an absolutely wonderful motorbike. The bike we are featuring today is the Spirit II XS850 triple, which is Tim Rogers personal bike.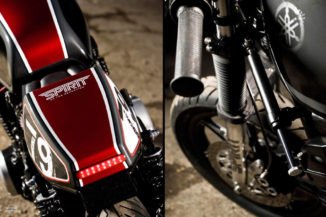 Spirit II XS850 triple started life as a tranquilize 1979 Yamaha XS750 tourer. The 750CC ENGINE was replaced with a gruntier 850 unit, giving the bike more torque and reliability. The frame was de-lugged, re-welded and the subframe was shortened. The bike was dropped at the front and raised at the back for sharper steering and better handling. A shaft drive system, the carbs were overhauled and the airbox was repleaced with K&N. The Spirit II XS850 rolls on a set of new Avon performance tires with R6 front calipers and FZR400 floating disks.
Spirit II XS850 triple also has an electronic speedometer. New powedercoted headlight, LED rear break light, LSL clip-ons and Tommaselli quick action throttle and grips. A glorious three-cylinder roar from its new custom made ceramic-coated exhaust system.
If you are riding it you will be sitting on Spirits very own designed 3 piece leather seat. Everything on this bike has a great balance between design and structure. The exhaust system and the unique Spirit paintwork are our favorites. If you want something like this in your garage contact Spirit of the Seventies @ 01732 822081.