Today's custom motorcycle journey takes us to a place we have never been before. Maria Motorcycles is a new brand of customized motorcycles from Lisbon, Portugal.
It is also a lifestyle point of view. Maria Motorcycles is not about technology or innovation. It is just simple and pure motorcycles, taken from past history and reborn with a new soul. They have the real spirit from the oldies but with a new approach. Maria Motorcycles create single and unique motorcycles, each one with a single spirit and personality. Combining their design skills with the mechanics and the technical part, to create motorcycles. Maria Motorcycles is a moment about yourself and a mark of each individual.
Maria motorcycles was born a few months ago. A group of friends with a passion for old motorcycles, and with a professional background in design, advertising, fashion, photography and marketing who decided to come together and start a project that could combine all of this.
In Portugal the old school lifestyle and customization of old motorcycles was something people have just started talking about, so for Maria it was an opportunity to create a very cool new brand. This is new territory in Portugal and Maria became the pioneer.
This is the first project bike from Maria Motorcycles a custom Yamaha XS650 named EVA. Over to Luis for a run down of the build process "It all started when one of our members found an old and very used Yamaha XS650. In Portugal old models are very rare, so it was a challenge that begun as a personal project. During the process of restoration and restyling, ideas come together to create a single and unique motorcycle.
The first part of the build was easy, unmounting all the dirty and rusty parts. During this process, we took care of all the damaged parts and got new ones. We created several unique parts as well, like the battery box, the headlight and back light supports, and a few other things. We changed the back of the frame to give a more radical look. The Firestone Deluxe tires gave a good aggressiveness to the wheels.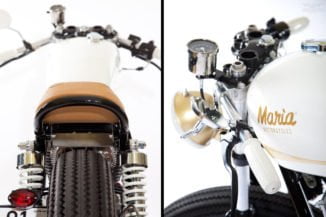 With the help of some friends that work in this area, the engine was rebuilt from scratch. This was a big motivation boost to believe that all was going to be possible. It seems like a new one now! The condition of the motorcycle was very poor and all this took a long time and effort. One of the good things was, that nowadays, we can find all kind of new parts for a XS650. The design and the graphics just came to be a very natural thing, since that's our professional skills area.
The engine start up was something delicate to solve with hours and hours checking all details from the new electrical system. All the wires were simplified. The gel battery behind the seat, and all wires and condensers, hidden, gave a very simple and clean look to the Yamaha XS650.
The seat was another challenge. It was the best of 4 prototypes. We really knew what we wanted, but it was not simple to get there! The result is here and we are very pleased with it. Riding it is even better, the sound and the feel are amazing!"
This is just the beginning for Maria Motorcycles during all this learning process they have started 5 more motorcycles, stay tuned for more from the guys at Maria!
Yamaha XS650 Technical Specification:
Standard Engine
Customized paint
Standard Carbs
Customized frame by Maria
Original rims with Firestone Deluxe Tires
Original suspensions: both original but revised
Original tank

Headlights customized by Maria
Customized battery box by Maria
Customized Seat
Original brake system
Electric system customized by Maria