The Yamaha SR400 is a popular thumper among the young Japanese motorbike culture. SR400 is easily adaptable for a variety of custom builds from Café Racer, Street tracker, bobbers or choppers; the guys at Motor Rock have done it all.
The Yamaha SR400 was first introduced in 1978. Basically SR400 is the same bike as the SR500, but with a shorter stroke and heavier muffler to pass tighter emission restrictions. It experienced good sales throughout the US, Europe and Australia.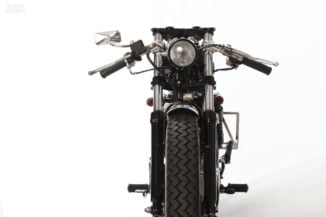 The build of Motor Rocks custom SR400 started with the stock SR400. The stock bike was stripped down to the frame, which was heavily modified and remolded. The stock engine was overhauled and assembled with Keihin Carburetor and K&N air filter. The engine was fitted with Motor Rock's custom 69Megaphone exhaust.
The fabrication work includes a Mustang fuel tank, front and rear fender all this was remolded and heavily modified .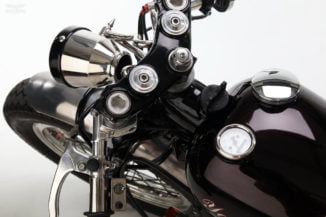 At the front this custom Yamaha SR400 features Magura separate handle bar with polished 7/8 inch clutch lever, one off handle bar switch and one-off mirror. A 69 light type 2 steel rim headlight and throttle holder from Motor Rock's catalog.
At the rear the bike features progressive short suspension, one-off seat, 69 tail type 1 aluminum taillight and drilled sprocket cover also from Motor Rock's catalog. Other parts include classical step foot pegs and POSH type 72 winker.
The finished custom SR400 rolls on Excell H-Shape aluminum rims wrapped in Avon SP MKII front tire and Avon SP SMII rear tire. My personal favorite on the bike is the embedded Speedo meter on the fuel tank. Special thanks to Keita Kobayashi for sharing this fantastic build with us.
Disclaimer: If any of the facts in this article have been lost in translation we apologize, please feel free to comment and correct us! Moto Rivista editor!