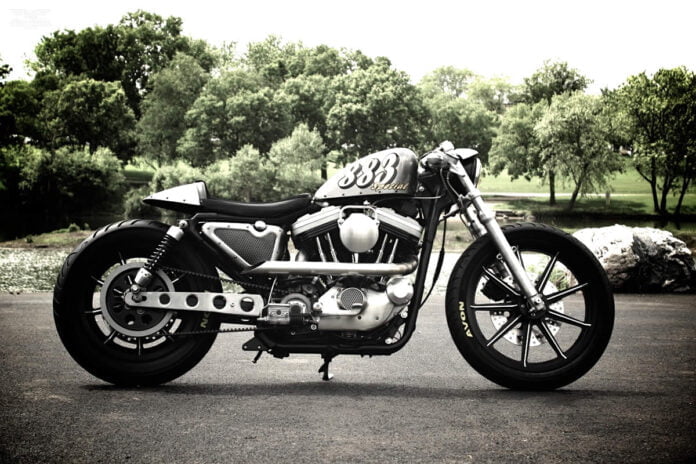 Here's an interesting customized Sportster Cafe up for grabs on eBay. With over 5 days of bidding left the auction has already hit $9000 USD.
The stock bike was stripped down completely to the bare frame, then the frame was modified and all the unnecessary brackets were removed and it was professionally painted in satin black.
The stock engine was overhauled and all the worn parts were replaced. According to the builder of this bike the compression is 100% and the leak-down test was perfect. The bike is carbureted, and has been re-jetted for the pipes and air cleaner. The engine is a rigid mount, this combination gives the bike a sound and feel newer fuel injected rubber mounted Sportster's no longer have. The bike is cheaper and easier to maintain then a current stock Sportster.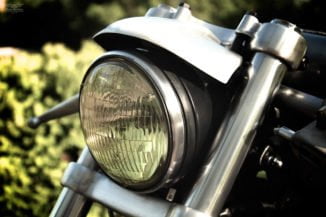 The styling of the bike follows the Cafe style, with a little more emphasis on street than race. The rear tail section of the bike is fabricated from 16Ga steel and all wrapped in real leather and suede. Hand fabricated parts are all over the bike including the oil bag, bars, pipes, swing arm cover etc.
The finish on the bike is brushed steel with clear powder coat on top, every part of the bike was hand brushed. The wheels were painted and wrapped with Avon venom tires and new brake rotors. At the front bike was lowered by 2-inch with a progressive kit.
"The finished motorbike looks amazing in the sun! And attracts people like moths to a flame".
This custom Sportster Cafe is located in North Aurora IL and the seller is willing to ship anywhere (buyer to arrange shipping). Check out the auction for more details of the bike.
If anyone has any further information regarding this build please leave a comment or drop us an email at kirst@motorivista.com.
For more Info visit – eBay Auction