Designer and Fabricator Kim Boyle from Carlsbad, USA has got our full attention. One of his creations a stunning  1981 Yamaha SR500 has shown up on Moto Rivista radar, and we could not wait to publish it!
The desire for this build came from a personal need for a daily riding bike. Kim already had two ongoing projects bikes a '60 H-D FL and a '71 Norton Commando in his garage. According to Kim both bikes were at a standstill due to his lack of skills, he needed something experimental and easy on the pocket. The Yamaha SR500 was the perfect bike to fit that criteria, it is a thumper and is quite popular amongst Asian custom builders.
Kim found a 1981 Yamaha SR500, and began by stripping down all parts. He had a very tight deadline as the goal was to finish this bike and ride to an event, which was only five weeks away! Kim needed a MIG welder kit and he ordered some parts, he also found; low-rise bars with a flat bend, a set of simple hand controls, grips and pegs. Now the stars have aligned for this build, every thing was in place and there was a clear direction for Kim.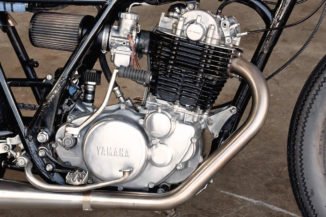 Kim started from the front and worked his way to the back by chopping the rear frame and the fender. The stock motor was cleaned up and painted, tunneled and a notched mustang tank was reworked by Mullins Chain Drive. This bike also features brushed Bub header with reverse Megaphone exhaust.
The wheels of this Yamaha SR500 are powder coated and wrapped in Firestone repop tires. Kim also shaved and polished the forks, and lowered them by 2.5-inches. For the braking Kim added a Ducati Brembo front caliper and rotor. The finishing touches of this bike included, Titanium YZ foot pegs, Progressive all black 12 series rear shocks, Aluminum dipstick with temp gauge and a repop headlight with a hi-lo switch.
It only took five weeks of hard work, day and night and Kim Boyle was ready to rock this beauty to the event. We're sure this "Yamaha SR500 would have turned some heads and received some well deserved attention. Our personal favorite on this bike is that tank, what is yours? Leave a comment and let us know what you think of this bike!