'Hammer Head' is a 1972 Honda CB450 creation by Kevin Dinsmoor of KDI Cycles. Collaborating with Benjie Flipprboi of Benjies Cafe Racers this build was completed over a long 1 1/2 years.
This bike is the 3rd built by Kevin who is not a professional bike builder, during the day he spends his time working in an automotive garage. Like plenty of others with a dream unfortunately sometimes the resources don't match the inspiration. Salvaging old parts and scraping together nickels and dimes enabled this bike to be completed. Hammer Head is the perfect example of what magic can be created if you are prepared to put in the time, it doesn't have to cost the world!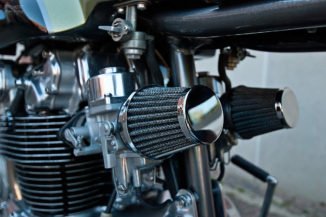 The Hammer Head was resurrected from three different motorbike piles. The build started with the frames getting fabbed up, Kevin also lowered the mounts by 2 inches and moved them back about the same. The engine was overhauled, rebuilt +3 over bore and head ported by Kevin. All engine parts were polished with $60 harbor freight buffer, taking 100 hours hard work. Featuring a beautifully shaped Benjie's Café Racers pea shooter exhaust, the hardest part was the custom made rear swingarm, its 3″ over stock.
This Café Racer includes several Benjies Cafe Racers parts including; Hammer Head tank and seat, custom battery relocation kit to wrap the rear shock, bars with 450 gauge, head light brackets and vela stack.
The wheels of this beauty were powder coated with semi-black and sent to Buccanan's for new stainless spokes and lacing. Kevin used a front drum from a 1970's CL450, Hondaman electronic ignition, homemade (BCR style) rear sets and the pegs were machined stainless. Featuring CB900F rear shocks which have been disassembled & polished. This Hammer Head Cafe Racer includes so many parts it's impossible to cover it all in this article. To read more about this build please head towards DO THE TON.
We love the paint job on this Cafe racer, the frame color is Anthrecite . The rest of the bike was painted black/green with Anthrecite pin stripe. The idea for the green colors is inspired from 70's Toyota Corolla, a perfect old school blend.