What do you think when you first see this bike? I am sure most of you will easily spot this as being a tastefully customized Yamaha SR400 Vintage Racer.
If you are wondering where it was customized? The answer would be in Japan, it is clearly evident the Yamaha SR400 is a popular thumper for custom builds. As we stated in our previous article we are on a quest to discover and expose as many custom motorcycles rolling out of Japanese workshops as we can find.
This beautiful Yamaha SR400 Vintage Racer was customized by Motor Garage Goods. While looking at Motor Garage Goods portfolio you will discover these guys have a soft spot for the Yamaha SR400.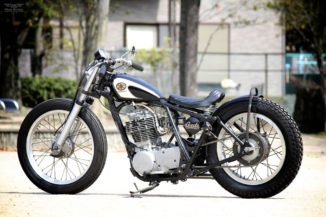 The base a stock Yamaha SR400 was stripped down to the engine. The stock SR400 frame was modified and all the extras were removed to clean up the look of the bike. The swing arm is a one-off bolt on hardtail kit. The stock engine was overhauled and assembled with HSR 40 Mikuni carburetor and Motor Garage Goods one-off muffler.
At the front thisYamaha SR400 Vintage Racer features one make triple & top-t front fork.  My personal favorite is the hand fabricated custom 4L fuel tank, which has been painted beautifully in Vintage racer style black and cream. The bike also features a 2L sub gas tank underneath the one-off seat.
The finished bike does have a great aesthetic appeal, the beautiful paint job, fuel tank and the tires all add to the presence of this Vintage Racer. To see more custom builds from Motor Garage Goods check out their website and Facebook page.
Disclaimer: If any of the facts in this article have been lost in translation we apologize, please feel free to comment and correct us! Moto Rivista editor!