RSD RenStar Yamaha is based on a 2006 Yamaha Roadster; Roland Sands built this bike for the AMD World & European Championships of Custom Bike Building. Most of the parts on this bike were hand crafted by Roland Sands Design.
For people who don't know, Roland Sands used to be an AMA 250cc champion. With the AMA background, handling and performance becomes an important part of Roland Sands build process. When he builds his custom V-twins, he avoids the typical stretched curbside ornaments and makes bikes that actually go-fast. His website mentions him dragging his knee on the Grunt, within ten minutes of first taking it out.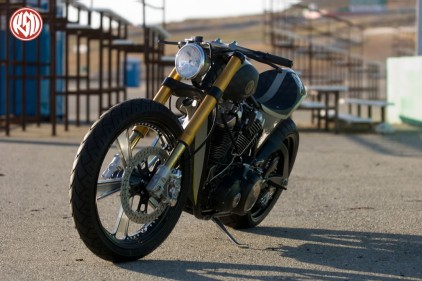 Patric Racing massaged the 110 cubic-inch powerplant, RenStar pounded the pavement at the Willow Springs Raceway. RenStar is not just a Daily commuter; RenStar can take it to the streets proudly against any customized street bike on the 405 freeway.
From the frame to swing arm and wheels every thing is hand crafted by Roland Sands Design. With a Öhlins racing suspension, hand fabricated RSD exhaust and handlebars. Dunlop racing tires, Front wheels is a Tall Dunlop 120/70 R21 Elite 3, the rear wheels are short Dunlop 240/40 R18 Elite 3. Magnificently designed long gas tank was also hand crafted. Chris Wood of Airtrix did awesome two-tone paint finish. The reverse golden forks looks great and gives it a street fighter style. The Seat was done by Bitchin' Rich.
At the end what we have is the best hand fabricated Yamaha Roadster.