Windhoff was a German company based in Berlin, founded in 1880 by the Windhoff brothers as a manufacturer of their patented radiators. Windhoff radiators were very successful and heavily used in automobiles.
Despite the fact some of us might never have heard of this brand before, Windhoff  produced some of the most stunning machines of their time. During the pre-war days four cylinder motorcycles were not unknown, with brands like Henderson, Indian, Ariel and Nimbus among the most successful, although only a few were as technologically advanced as Windhoff.
Windhoff produced motorcycles that were not just an average design or engineering. These motorcycles were original, well balanced and mechanically as beautiful as some of the best motorcycles of their time.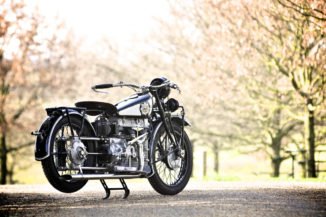 It was in the early 1920s when Windhoff began with the development of a two-stroke motorcycle. The first Windhoff motorcycles were powered by an advanced Bekamo water-cooled two-stroke engine that incorporated a pumping cylinder.
In 1926 Windhoff came out with a new machine the Windhoff Four, offering 746cc overhead camshaft, oil-cooled engine. The engine was designed by Ing. Dauben who later went on to work for Mercedes-Benz. Perhaps the most advanced motorcycle design yet seen; the Windhoff Four was loaded with innovation.
Windhoff Four was the bike with no frame, the huge engine was the frame in which was attached the front-wheel fork. The rear wheel was also attached to four fully chromed shafts emanating from the engine, which ran horizontally to the drive shaft, giving the entire unit a great architectural balance. The unit was renowned for it's smoothness and flexibility, enabling the Windhoff to be ridden at the speeds as low as 6mph without snatch. In 1928 Windhoff machine set the world speed and endurance record on the Opel Race track during the annual Opel 24 hour race.
Something as remarkably engineered as Windhoff Four did came with a hefty price tag. They were more costly then BMW's top of the range 750cc twin motorcycles. In a time of economic depression selling a motorcycle with a hefty price tag was quite challenging. Things didn't work out well for the brothers, they tried and failed and sadly in 1933 they gave up as motorcycle manufacturers.
This particular 1928 Windhoff 746cc Four motorcycle was sold at a Bonham's auction in 2008 for £100,500. Its been blessed with a complete mechanical and cosmetic overhaul carried out during 2007/08. This machine comes with 1959 German registration documents, sundry invoices for the work carried out and articles about the history of Windhoff. This 746cc Windhoff Four is up for auction again on 29 Apr 2012 at Stafford Bonhams, the estimated price for the current sale is £100,000-£130,000 or $160,000-$210,000USD.  But chances to find another one like this is slim they are as rare as hens teeth.
This huge machine was innovative and original in every way. As an attempt to become a major motorcycle manufacturer Windhoff was not successful but in that quest what the Windhoff brothers created was the most remarkable motorcycle of the inter-war period.