If you ever wondered what would be a true form of classic custom motorcycle. Look no further than Roberto Rossi's British classic creation a Triumph Bonneville, called Rivale.
This Triumph Bonneville, called Rivale, is the first in a long series of motorcycles which Roberto Rossi has created embracing the philosophy of Charles and Ray Eames; that all of the mechanic's efforts must be used to defuse the highest quality at the lowest possible prices.
Rossi's goal is to combine authenticity and history with modern technology and an old style image, perfect for modern daily use.
Rivale was the opportunity to undertake the creation of a functional piece without having to sacrifice beauty and a touch of romanticism. Reconstructed around a Triumph Bonneville T100 this is a tribute to a classic brand like Triumph. Rivale, a Triumph Bonneville with a rugged, well-lived look, which is the way Roberto Rossi likes it, has a Spartan frame, seat and details, giving it the feel of a scrambler.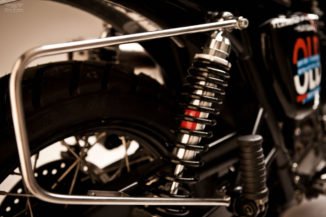 In fact, this motorcycle is, a bit provocatively, a physical re-evaluation of a used street bike and Rossi's reconstruction modifications, such as the dust black painted rims and the hand crafted fenders, clearly show that real emotions, like the feel of the wind in your hair, don't necessarily need to be brand new, they just need to be appreciated, each time as if it were the first.
The frame has been modified. The vintage gas tank was taken from a classic Triumph and adapted to its new location. There is a notable amount of inspiration from the classic models from the 70's, such as the design on the posterior fenders.
The most eye-catching aspects of the frame are the brush painted designs on the fenders on the sides, which were hand painted by Ettore 'Captain Blaster' Callegaro. The most beautiful of his quotations: "Gave shape to this notable British Motorcycle Model". And Roberto Rossi has done just that for the sake of friendship and for all of the 'Friends of Triumph'.
The seat and the saddlebag have been custom designed for this model. The saddlebag is detachable and can be slid off to be used as a carrying case for work. The bag blends a rugged, used look with an elegant vintage style. This beautiful bag almost seems to belong to another era and another way of life, an older way of life that appreciates the timeless value of authenticity.
Rivale Technical Specification:
Frame- Triumph Bonneville T100 from 2003
Rims- cmr painted dust black
Front and back tires- tessellated Trial Wing Bridgestone for scrambler models
Front and back fenders – hand crafted wrought iron custom made for the model
Tail light- mini Lucas
Headlight- Lucas with integrated bulbs
Mini tachometer
Gas tank- vintage Triumph Bonneville preserved and adapted to fit the modern frame
Exhaust system – based on the design of a scrambler TT, in hand crafted  wrought iron with a perforated protection grille

Rear view mirror- 70's adjustable large screw model
Cut Custom Adjusted Frame- Shortened to the height of the posterior fulcrum shock absorber, bent at 4 curves with the connection point for the posterior fenders designed by Laverda Choot in the 70's
Front and back turn signals re-positioned
Seat and saddlebag custom designed
Side Covers- hand painted by Ettore Callegaro that read:"A dream for everyone"