When I saw this custom Kawasaki W650 I was stunned, I went and checked my calendar to make sure I wasn't in the 70's! You don't have to time travel to get your hands on classic custom motorcycles; Motor Rock from Japan are building custom bikes with classic soul.
By the looks of this build it seems this was hidden in Kawasaki's secret production plant and they just decided to show it to the world. Motor Rock's custom crafts are original and represent the killer craftsmanship of Japan. Their Vincent Shadow inspired custom Kawasaki W650 was another with great vintage style.
To give you a little flashback "The Kawasaki W650 resembles British motorcycles of the early 1960s including the Triumph Bonneville. British twin-cylinder motorcycles of the period had pushrod engines, the "new nostalgic" W650 is distinctive in having a shaft-driven bevel-gear overhead camshaft, similar to those found on 1970s Ducati singles and V-twins."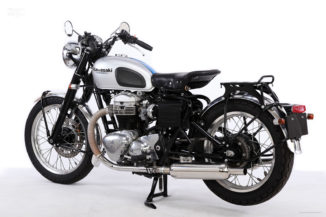 Lets take a look at the Motor Rocks latest build. The base for this build was a stock Kawasaki W650 that was stripped down to the engine. The W650 engine is fitted with Motor Rock's Old type air cleaner. The stock frame was heavily modified at the rear and the bike is fitted with a one-off swing arm. At the front this custom Kawasaki W650 features Motor Rock forks and fork covers all fabricated in house.
The fabrication work is the main attraction in a Motor Rock build. The front and the rear fender were hand fabricated in house so was the battery cover. The stock seat was replaced with a custom single saddle. The front headlight is stock while the taillight is one-off. At the rear this custom Kawasaki W650 features G-suspension.
The amount of fabrication work has gone in this build is priceless, Motor Rock proves it again that the Art of building classic style bikes is still alive.
Disclaimer: If any of the facts in this article have been lost in translation we apologize, please feel free to comment and correct us!